For the latest news and more information, please check out my social media pages:
This Thursday September 14th I will perform with my wonderful colleague Wesley Ferreira (Clarinet) an exciting program of the Debussy Arabesque No. 1, Weber Grand Duo Concertante, Brahms Clarinet Sonata No. 2 in E-Flat, and Novacek Four Rags for Two Jons.
https://csuartstickets.universitytickets.com/w/default.aspx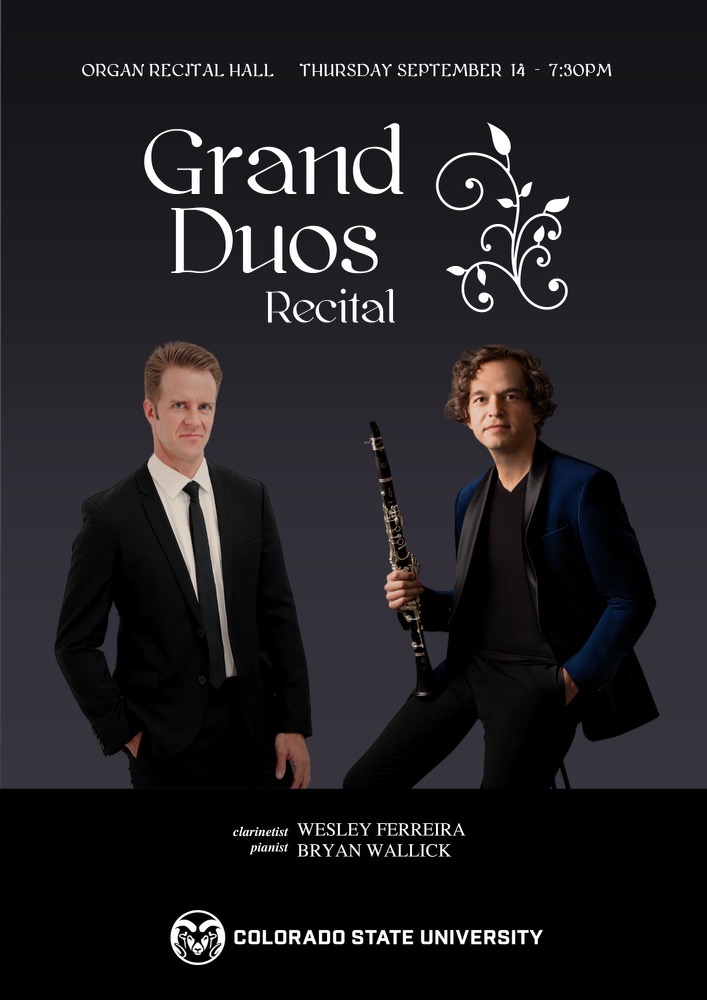 Fantastic time Judging the 2023 IKOF Piano Festival with Roberto Plano and Yakov Kasman!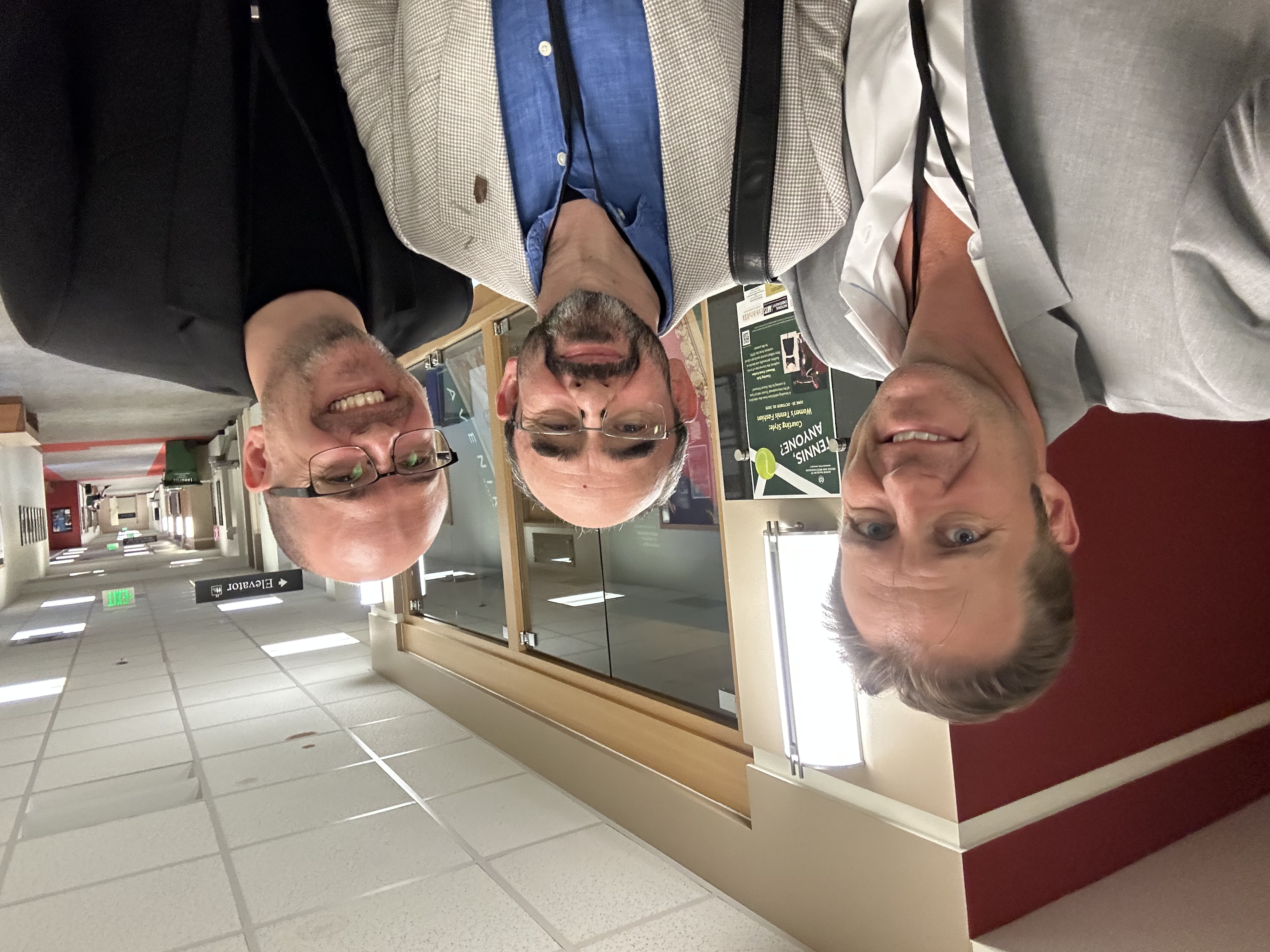 My CD is officially released today!  Click the link below to navigate to Navona Records. July 30, 2023
https://www.navonarecords.com/catalog/nv6541/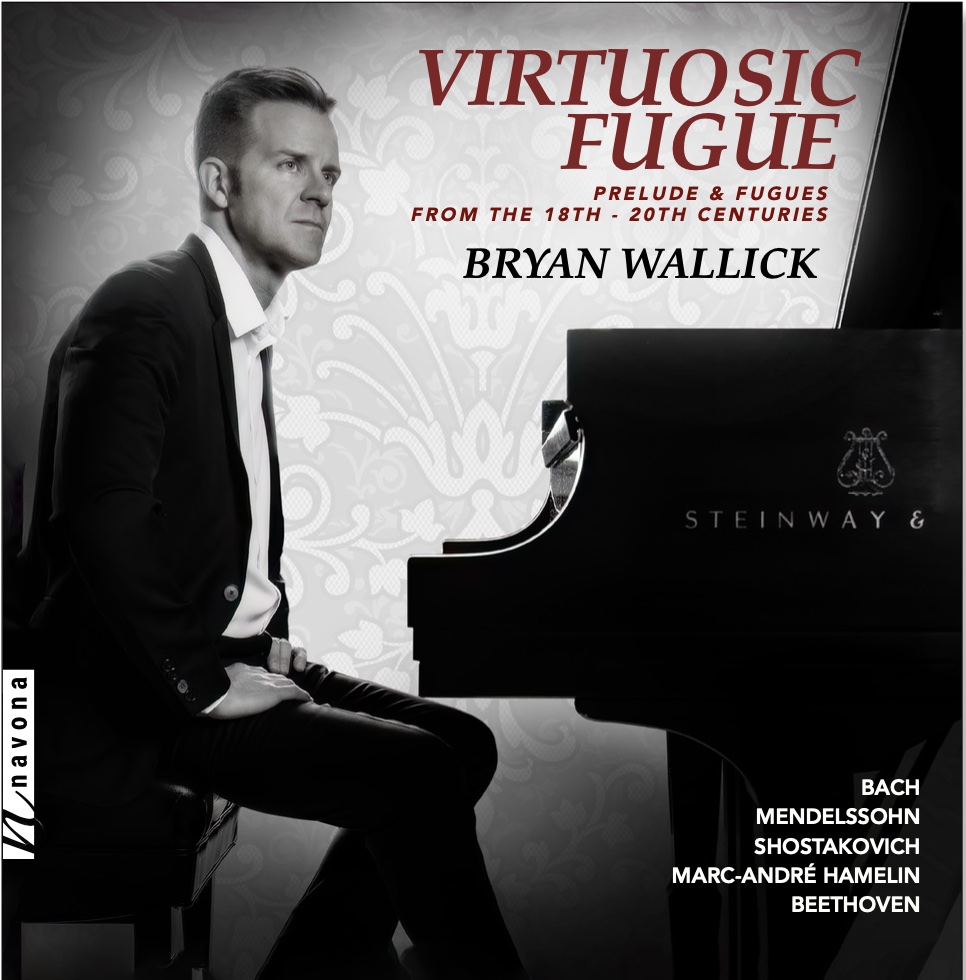 I performed the Taneyev Quintet for the Chintimini Chamber Music Series on Friday.  June 26, 2023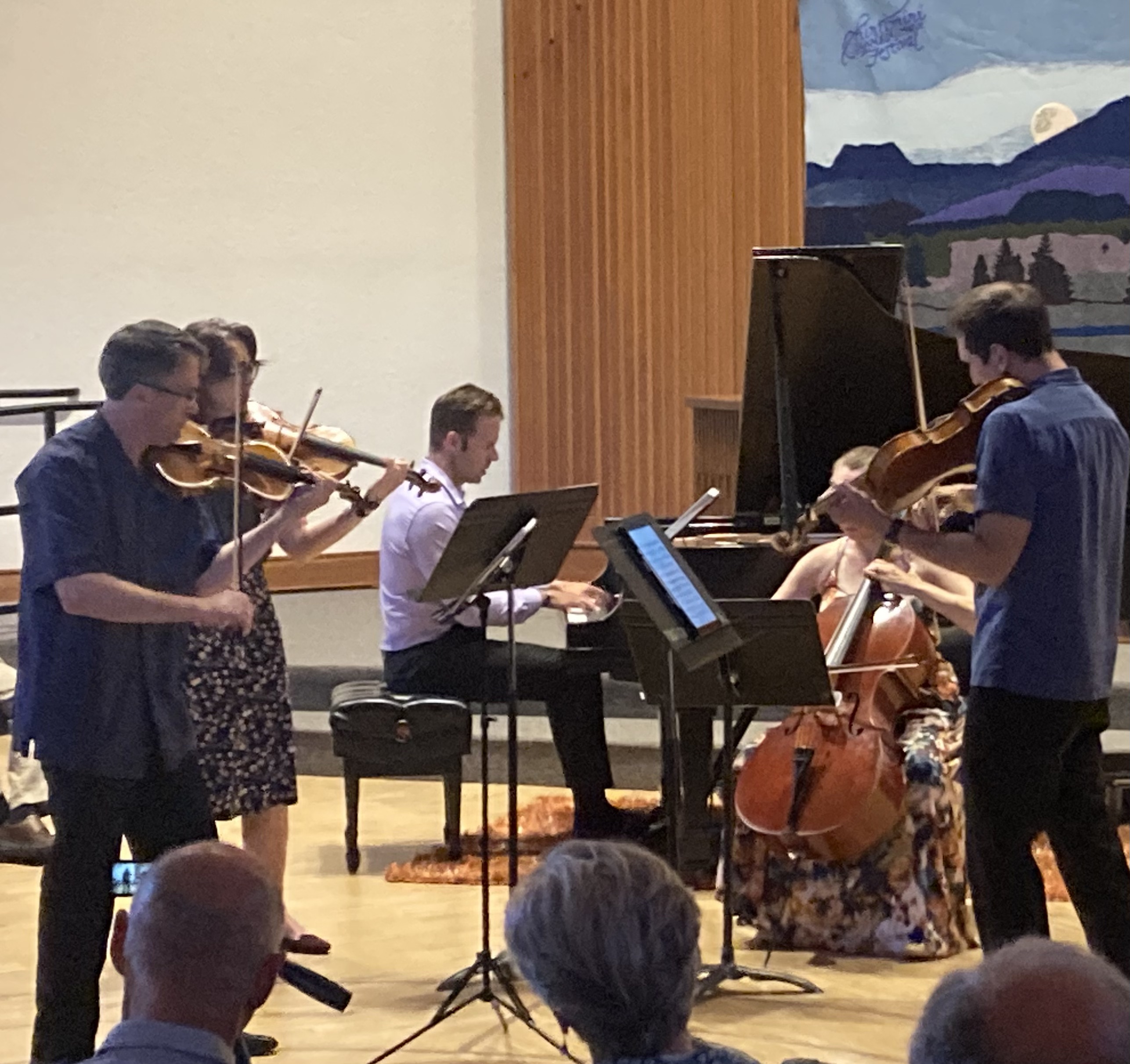 New CDs arrived in the mail today! April 20, 2023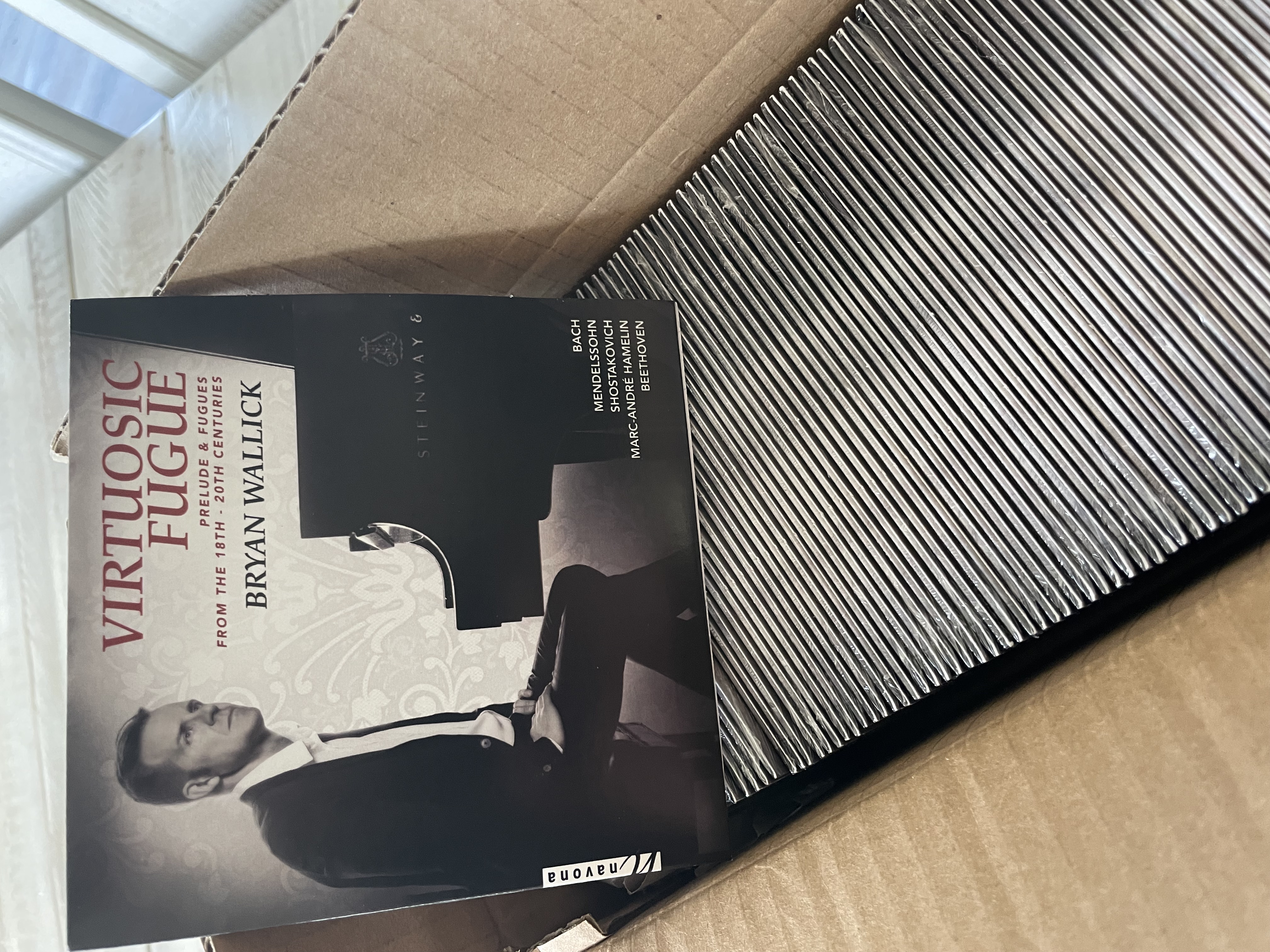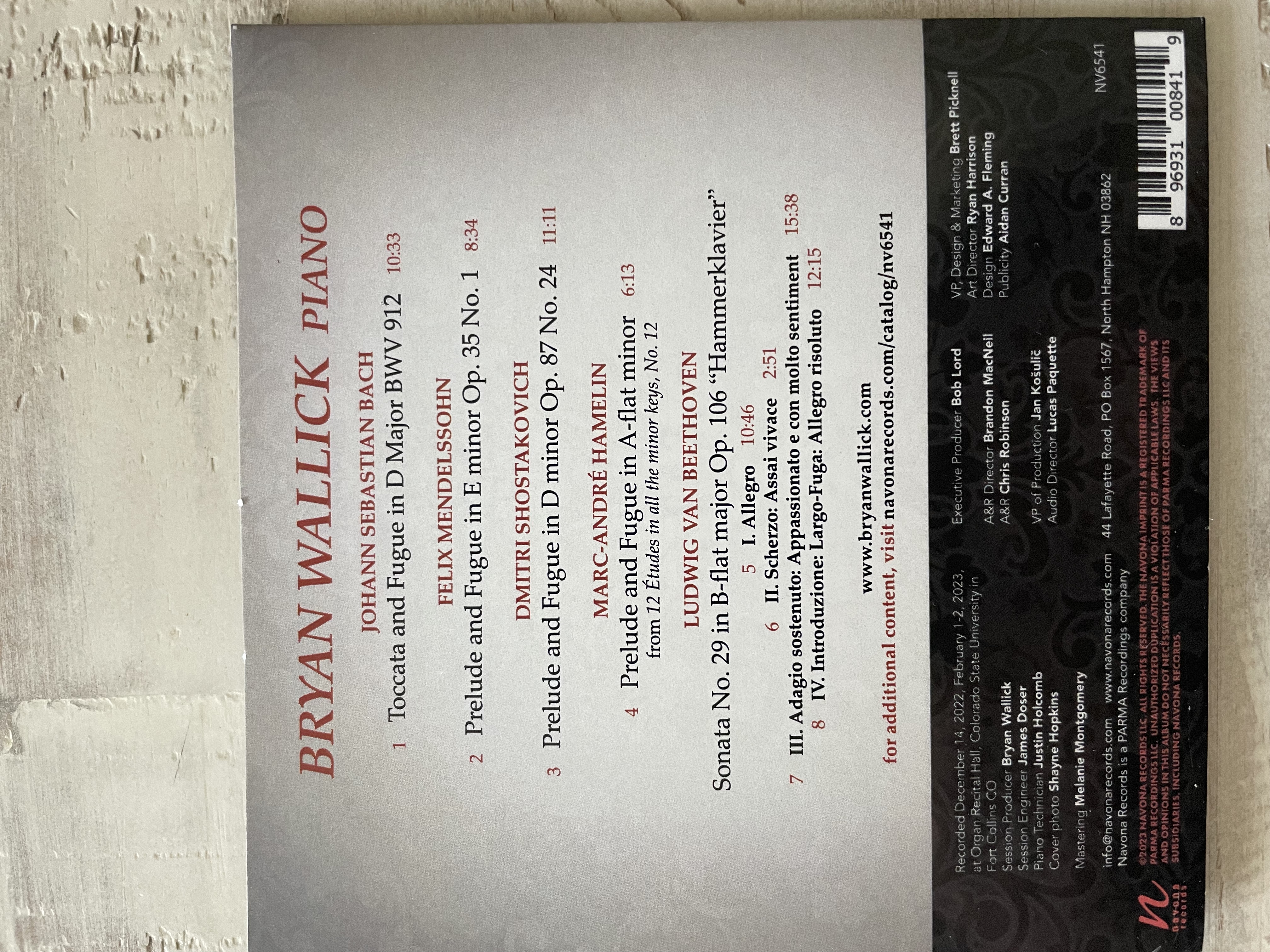 I performed with the Mendelssohn Trio this afternoon for the Caspar Chamber Music Series. April 14, 2023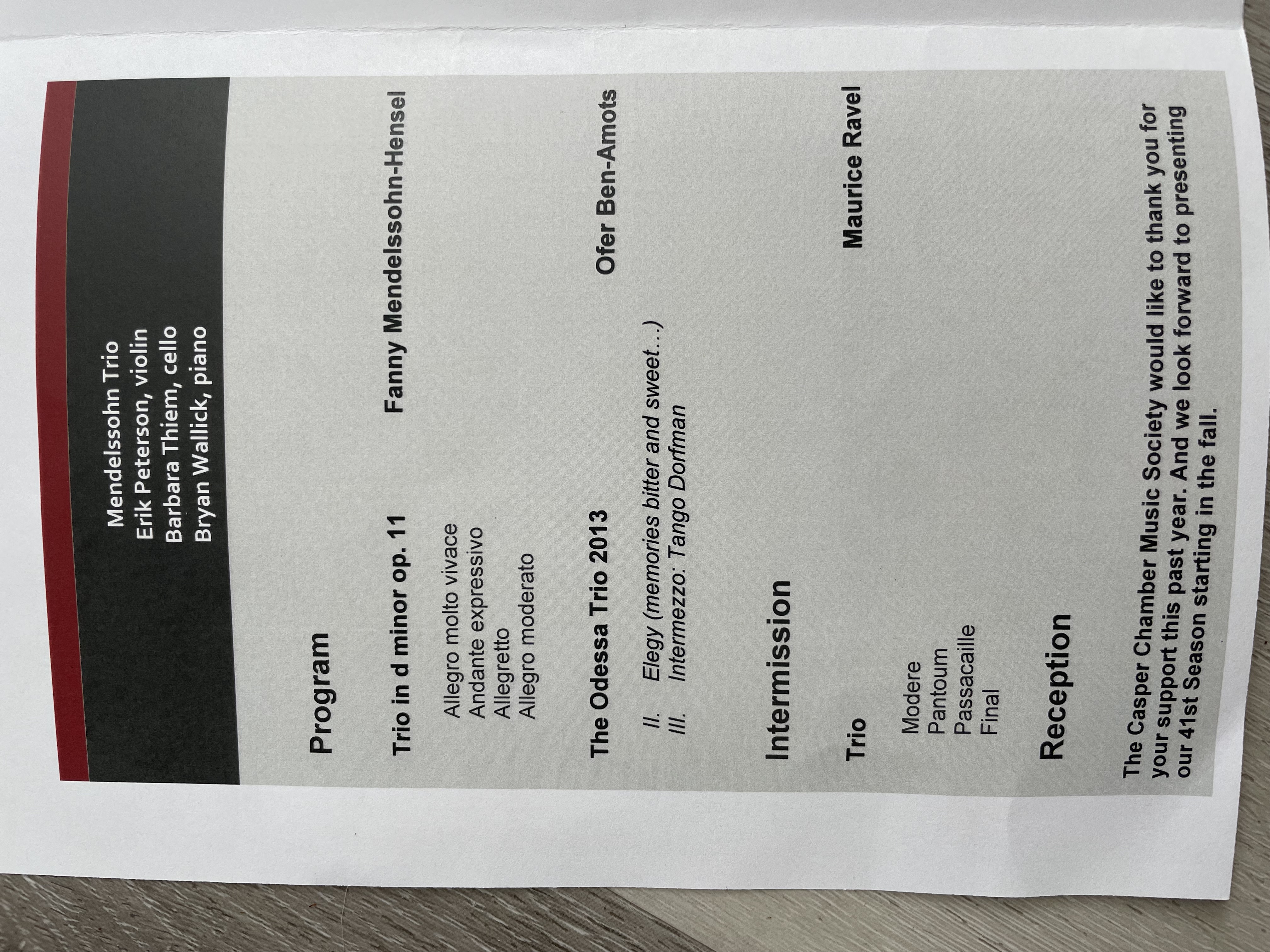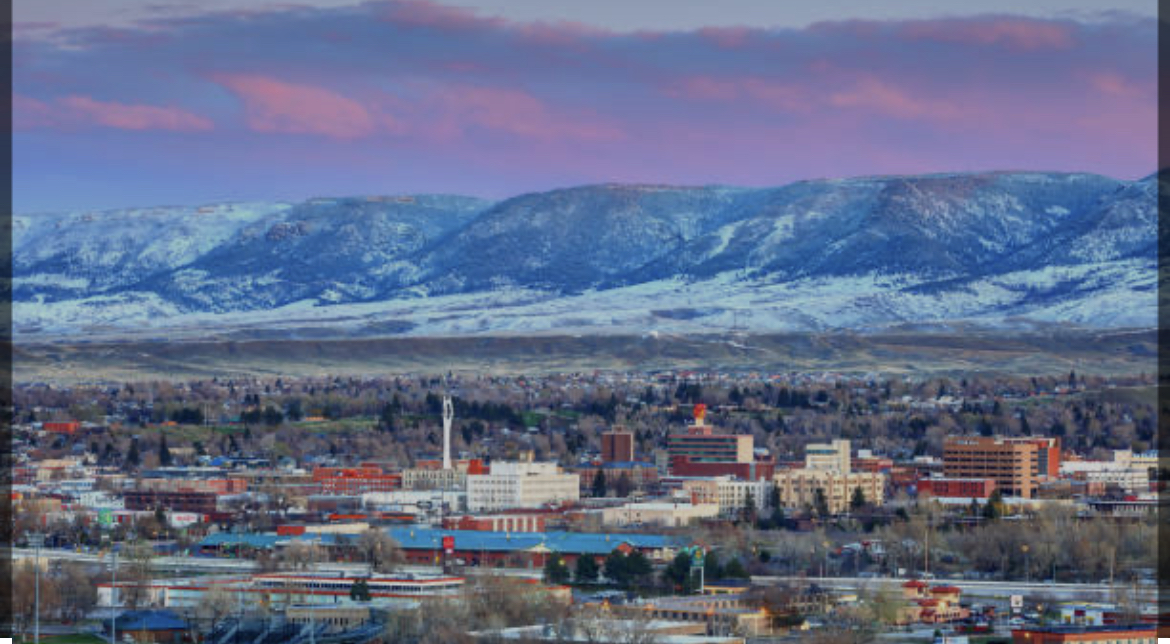 Tchaikovsky Concerto last night with Matthew Switzer and Lakewood Symphony Orchestra. April 13, 2023
https://www.lakewoodsymphony.org/Default.aspx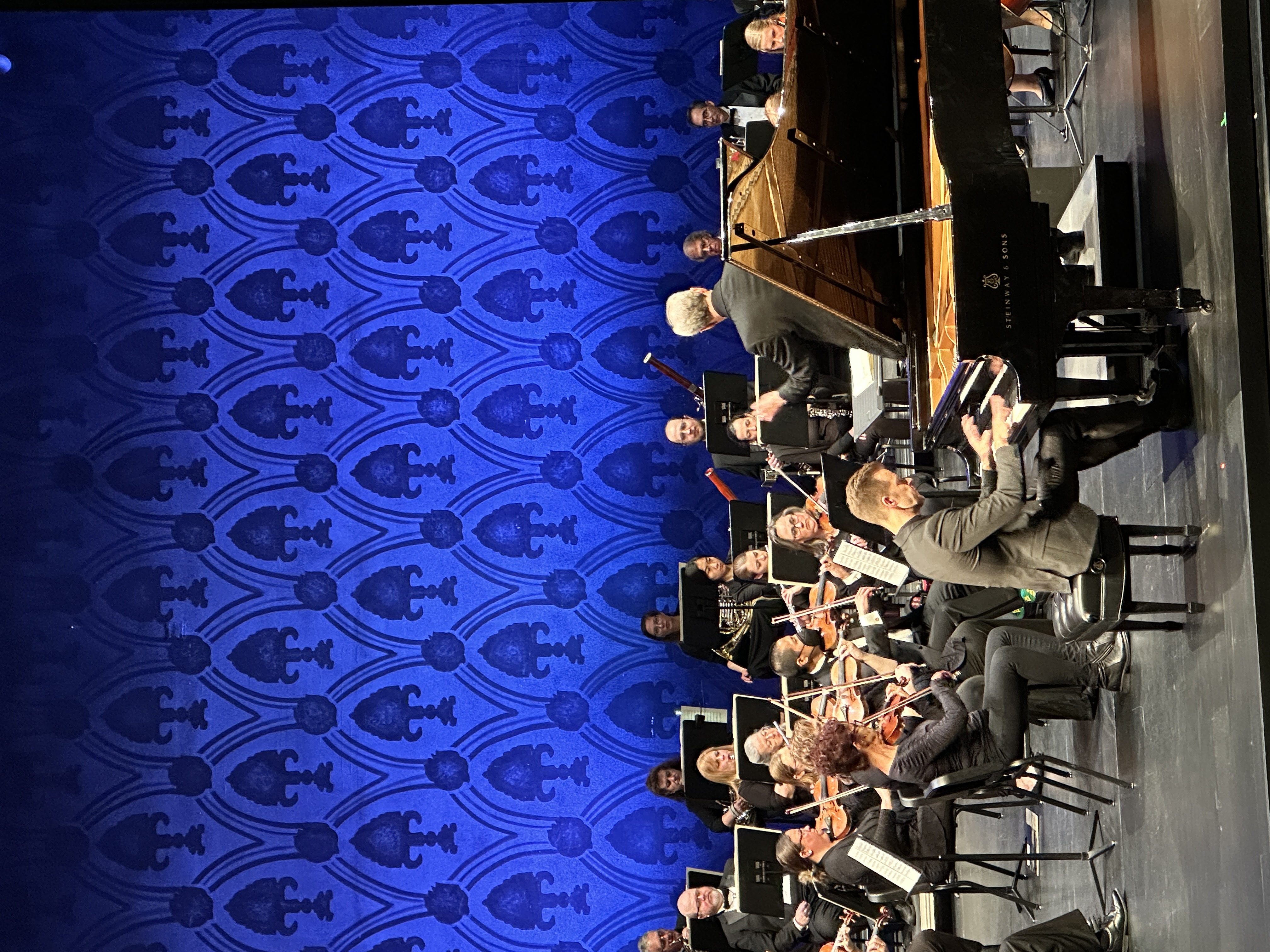 My next performance of the Virtuosic Fugue recital was in Denver for the Second Tuesdays at Trinity Concert Series.  March 17, 2023
https://secondtuesdays.org/upcomi.../march-14-bryan-wallick/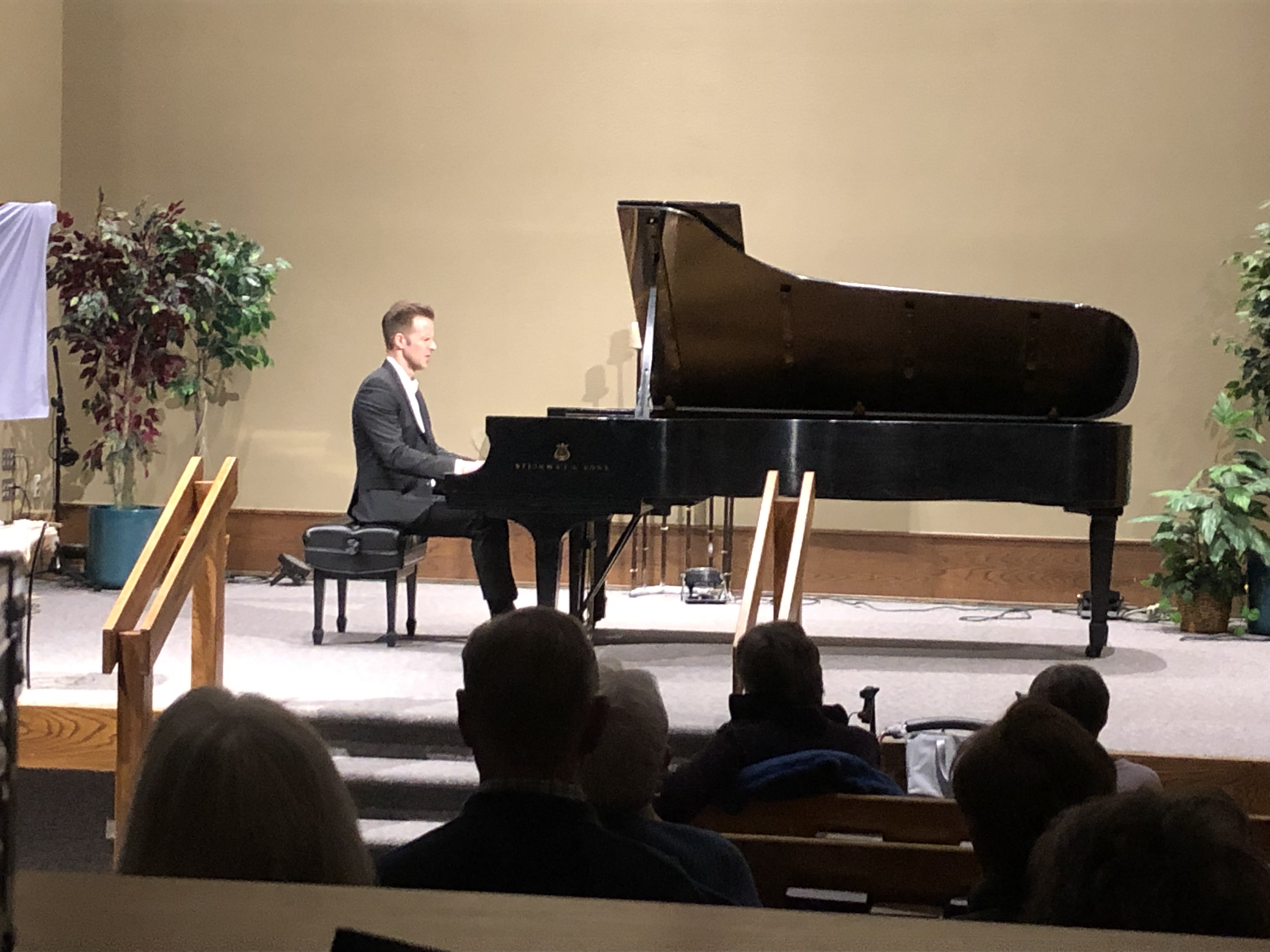 I was able to record my Virutosic Fugue recital for Parma Records in December  of 2022. This CD and video will be available for release in July 2023.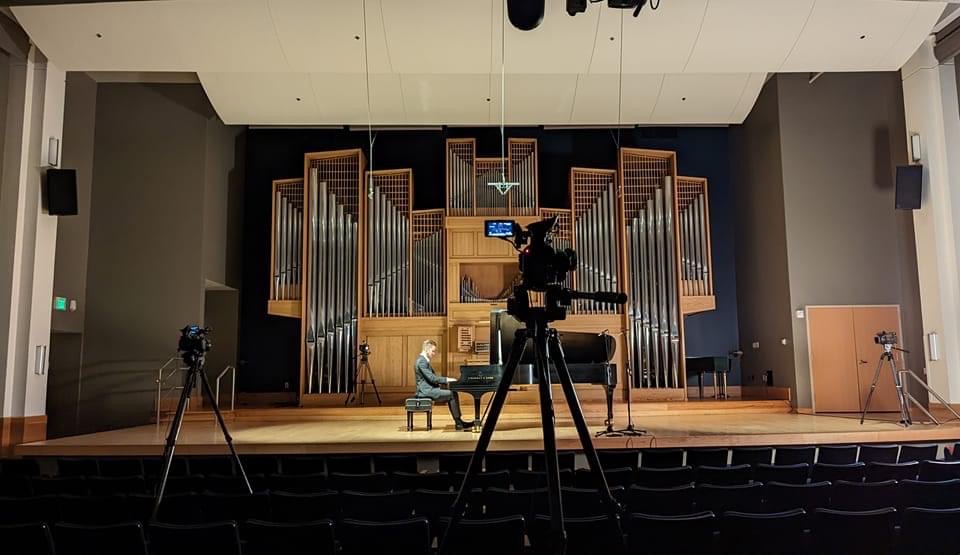 I performed Rachmaninoff's 2nd Piano Concerto at CSU this afternoon, November 13, 2022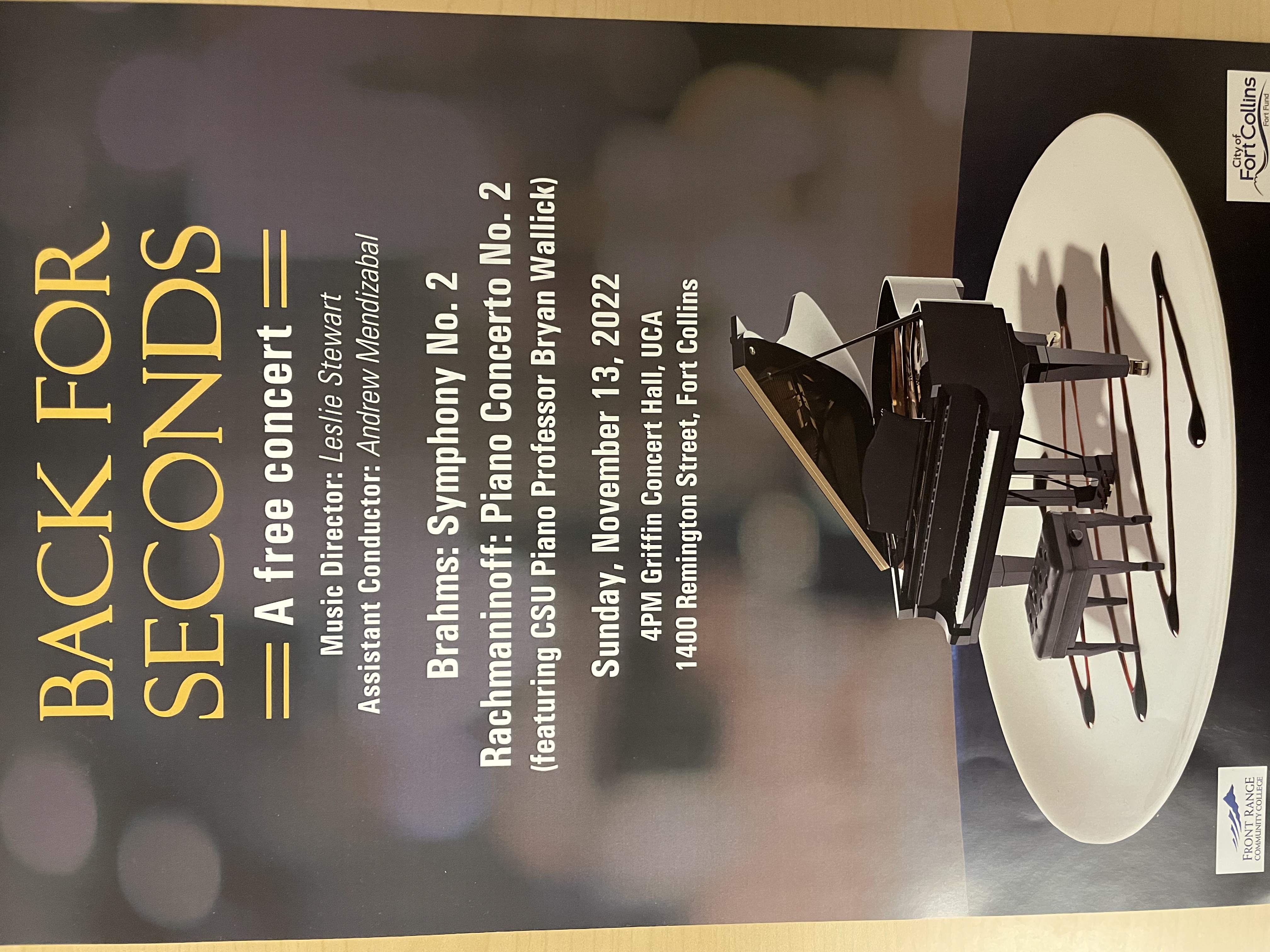 It was fantastic to reconnect with violinist Rachel Lee-Priday for an exciting combo of recitals at the University of Washington and with the Classical Convergence Series in Fort Collins, Colorado. October 20, 2022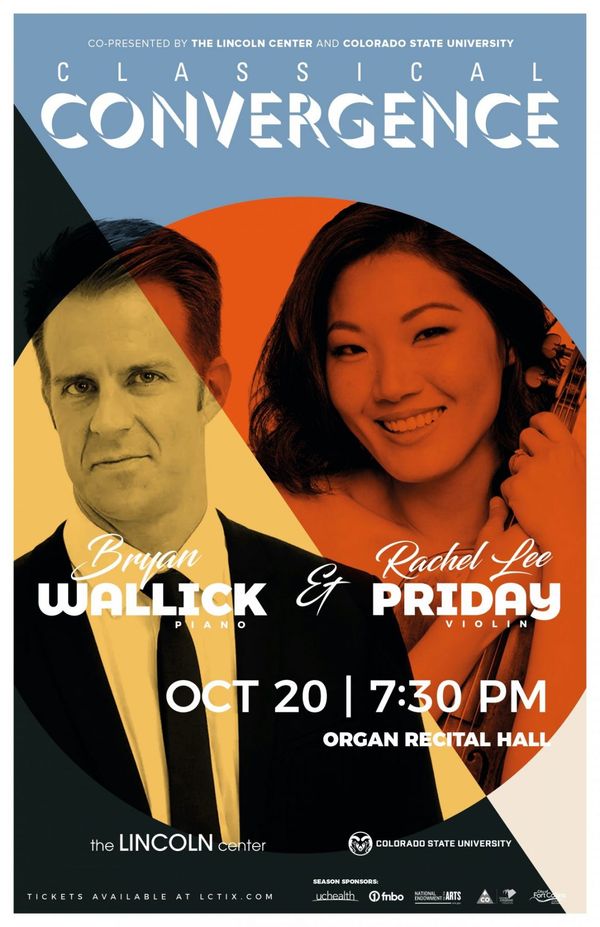 A little Claude Bolling for the Front Range Chamber Players, October 2, 2022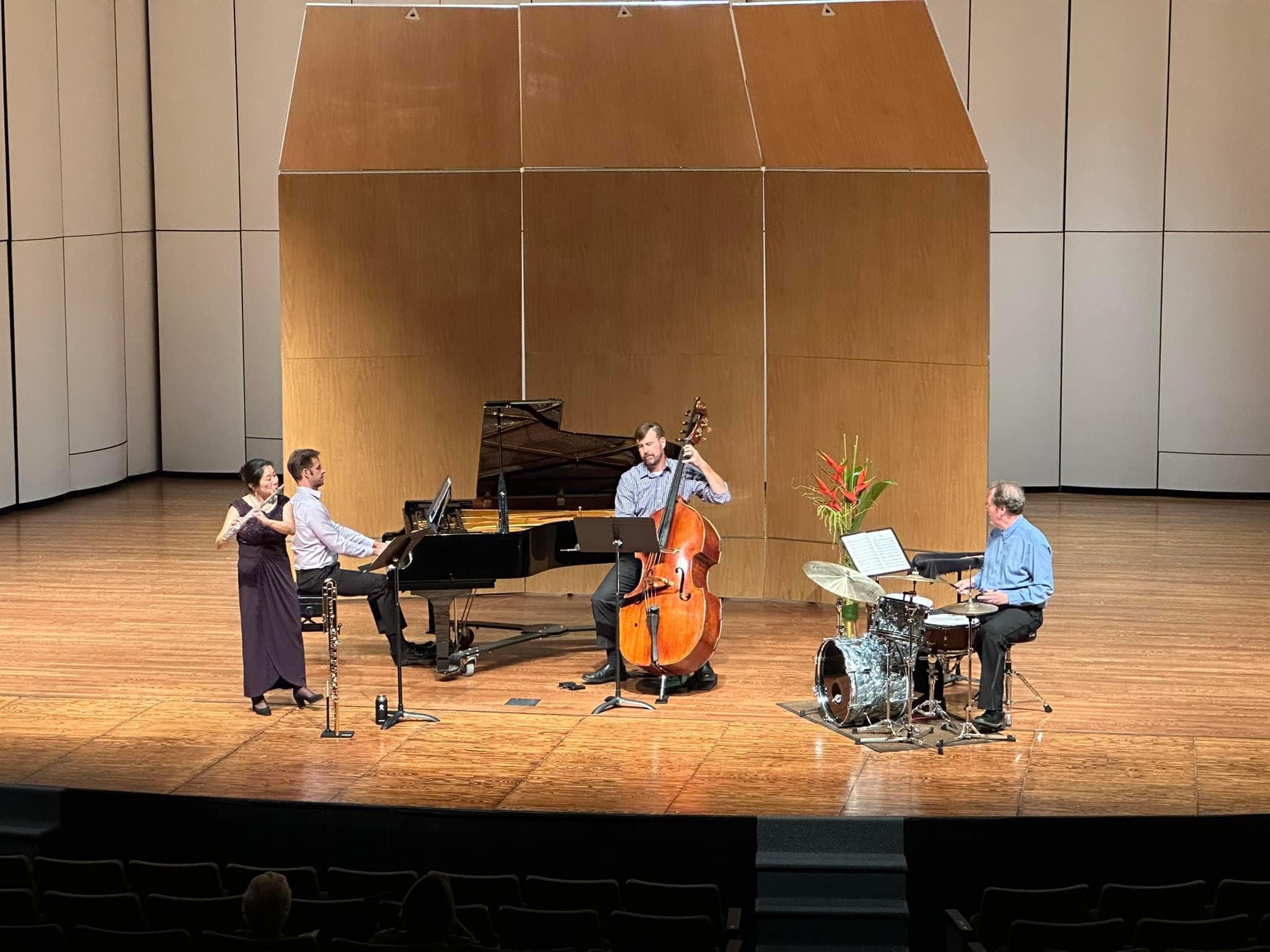 I was happy  to return to the Xavier Music Series in Cincinnati to open their 2022-23 season with my Virtuosic Fugue recital! September 28, 2022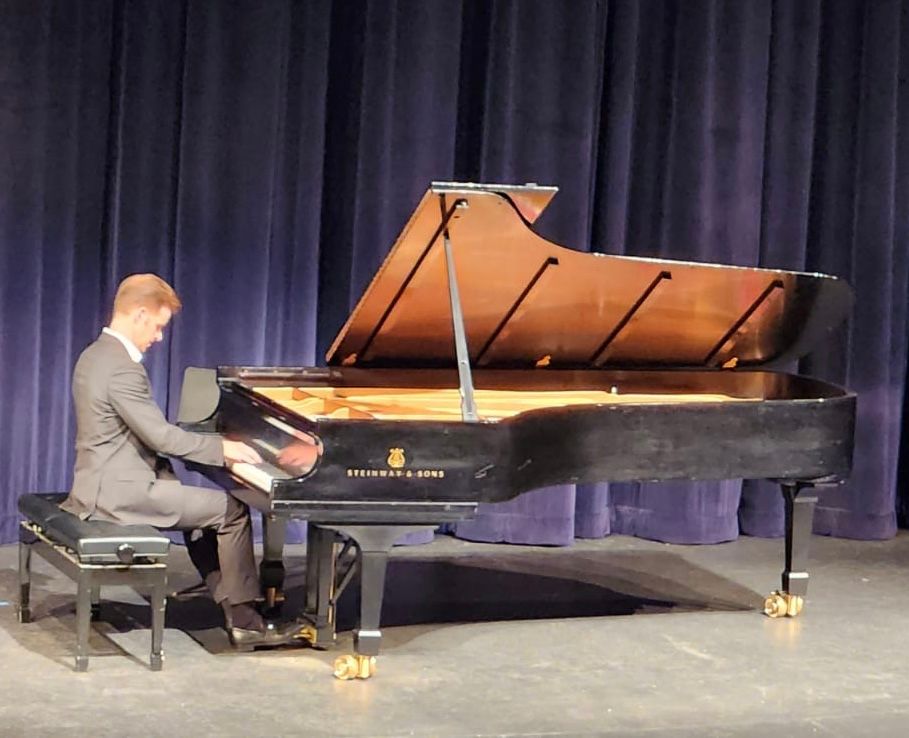 Here are a few pics from our Mendelssohn Trio European Tour, August-September 2022! We performed in Switzerland, Austria, and Germany.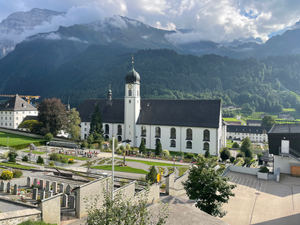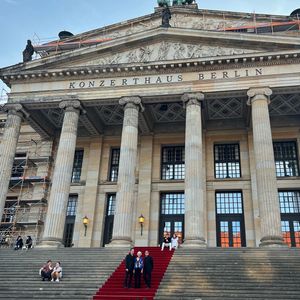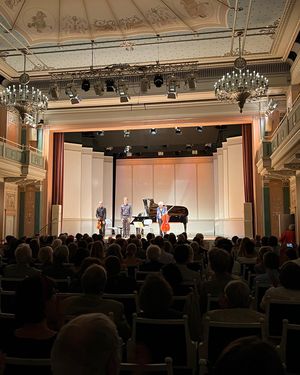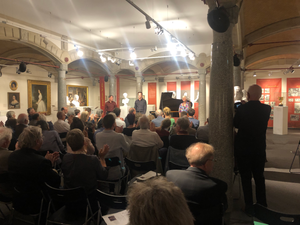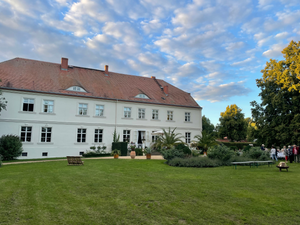 My Ravinia recital will be broadcast on WFMT in Chicago at 8pm Central time on August 29, 2022.  
Pianist Bryan Wallick: Virtuosic Fugue
August 29, 2022, 8:00 pm
Bryan Wallick
Across centuries, fugues have been fascinating flourishes for composers—Bryan Wallick walks their evolution from Bach to Mendelssohn, Shostakovich, and today (pianist and composer Marc-André Hamelin) before concluding with Beethoven's fiendish and famed "Hammerklavier."
Recorded in Bennett Gordon Hall on August 23, 2022.
https://www.wfmt.com/2022/08/29/pianist-bryan-wallick-virtuosic-fugue/?fbclid=IwAR1cnFNfioSuxH3qBEIJVgt5pF9w9gh0y4BXckVKInPwq1ivGTiB7sPyY4k
I am greatly looking forward to my return to the Ravinia Festival in a few weeks!  
Pianist Bryan Wallick: Virtuosic Fugue
August 29, 2022, 8:00 pm
Bryan Wallick
Across centuries, fugues have been fascinating flourishes for composers—Bryan Wallick walks their evolution from Bach to Mendelssohn, Shostakovich, and today (pianist and composer Marc-André Hamelin) before concluding with Beethoven's fiendish and famed "Hammerklavier."
Recorded in Bennett Gordon Hall on August 23, 2022.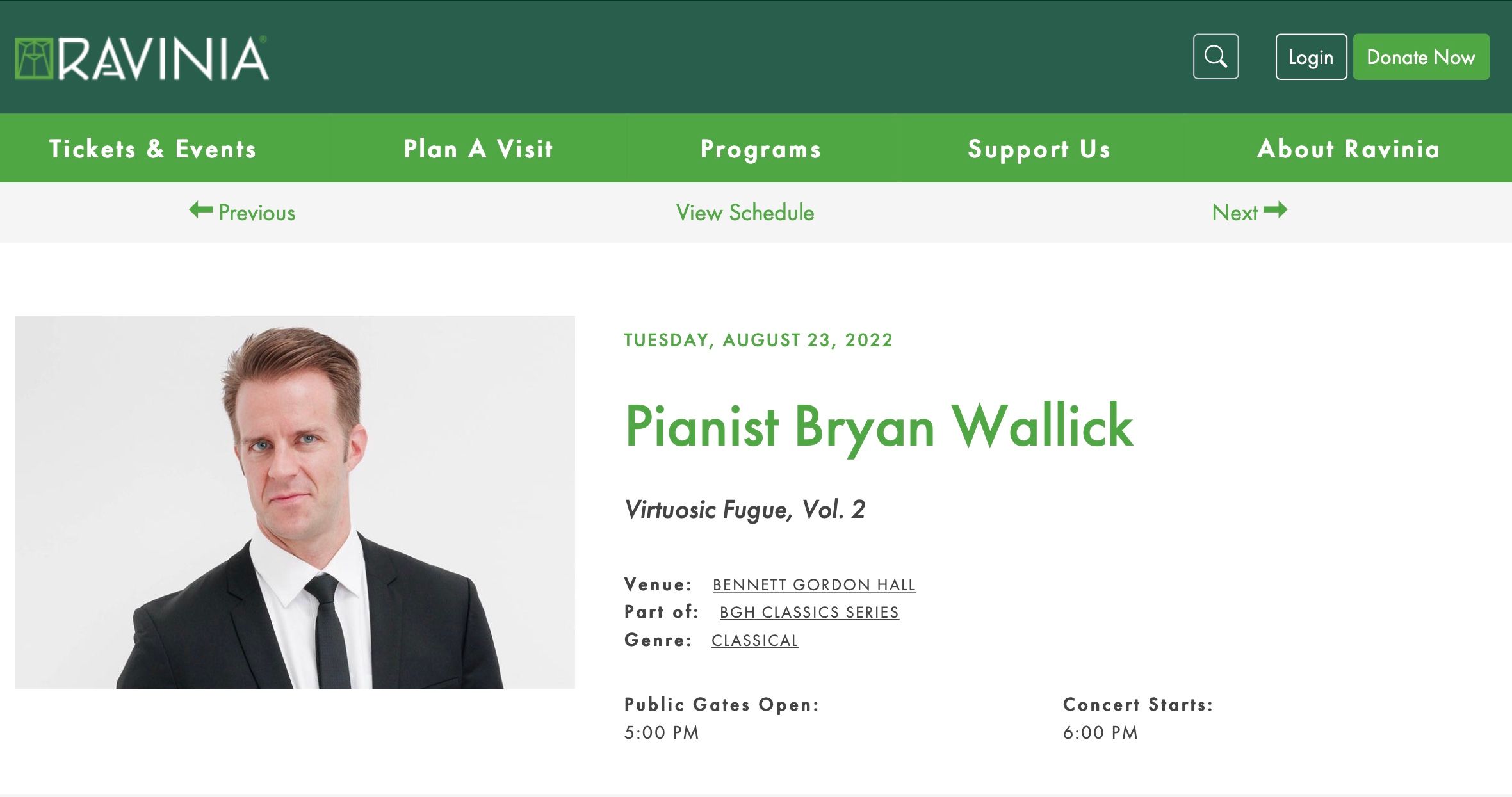 I will be happy to share the stage with these wonderful artists during the 2022 Odyssiad Competition and Keyboard Festival!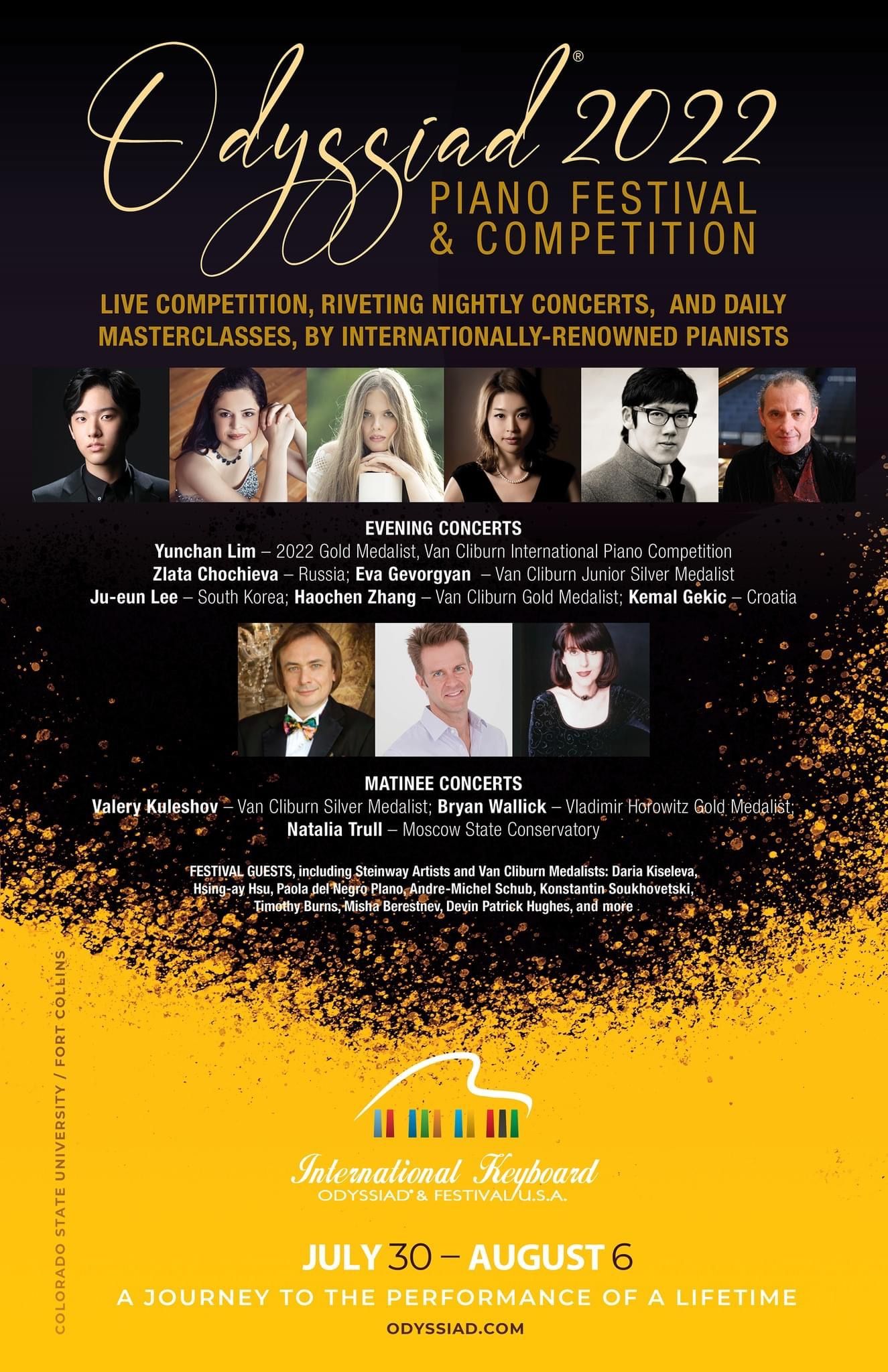 I was in Corvallis, Oregon last week (July 18-25) for the Chintimini Chamber Music Festival 2022: The Taneyev Quintet had to be replaced with Mendelssohn d minor trio as our violist tested for COVID the day before the concert.  I also performed Beethoven's Violin Sonata No. 7 in C minor with Sarah Knudson of San Francisco Symphony, Requiem Milonga with Colorado Symphony's flutist Cathy Peterson and Claude Bolling's Jazz Suite for Flute and Jazz Trio at the beautiful Tyee Winery.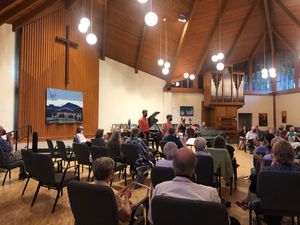 Here is a small selection of pics from my South African Tour in June 2022.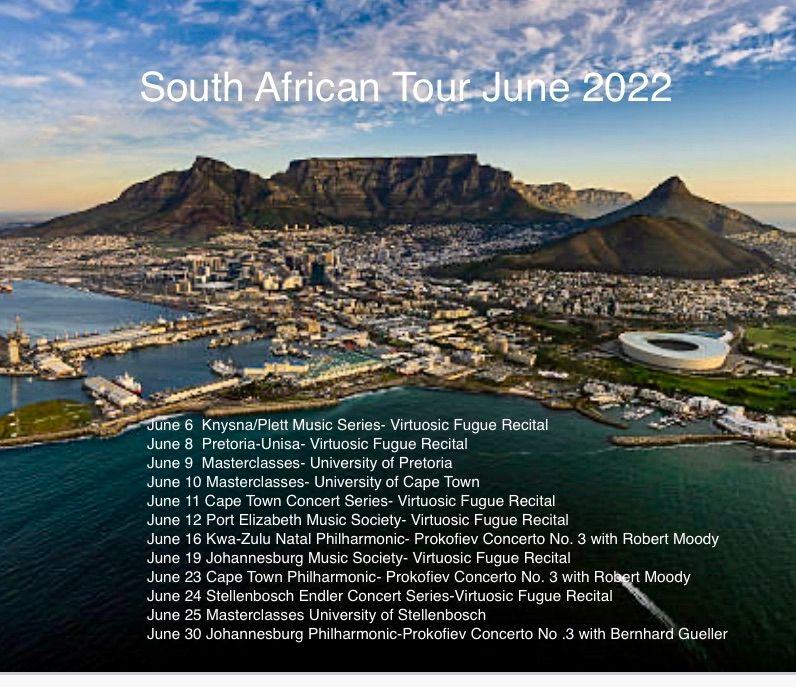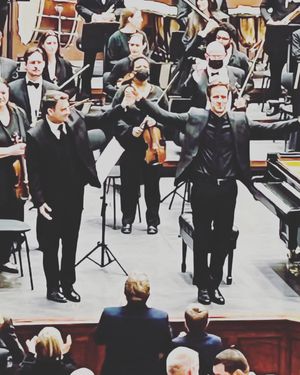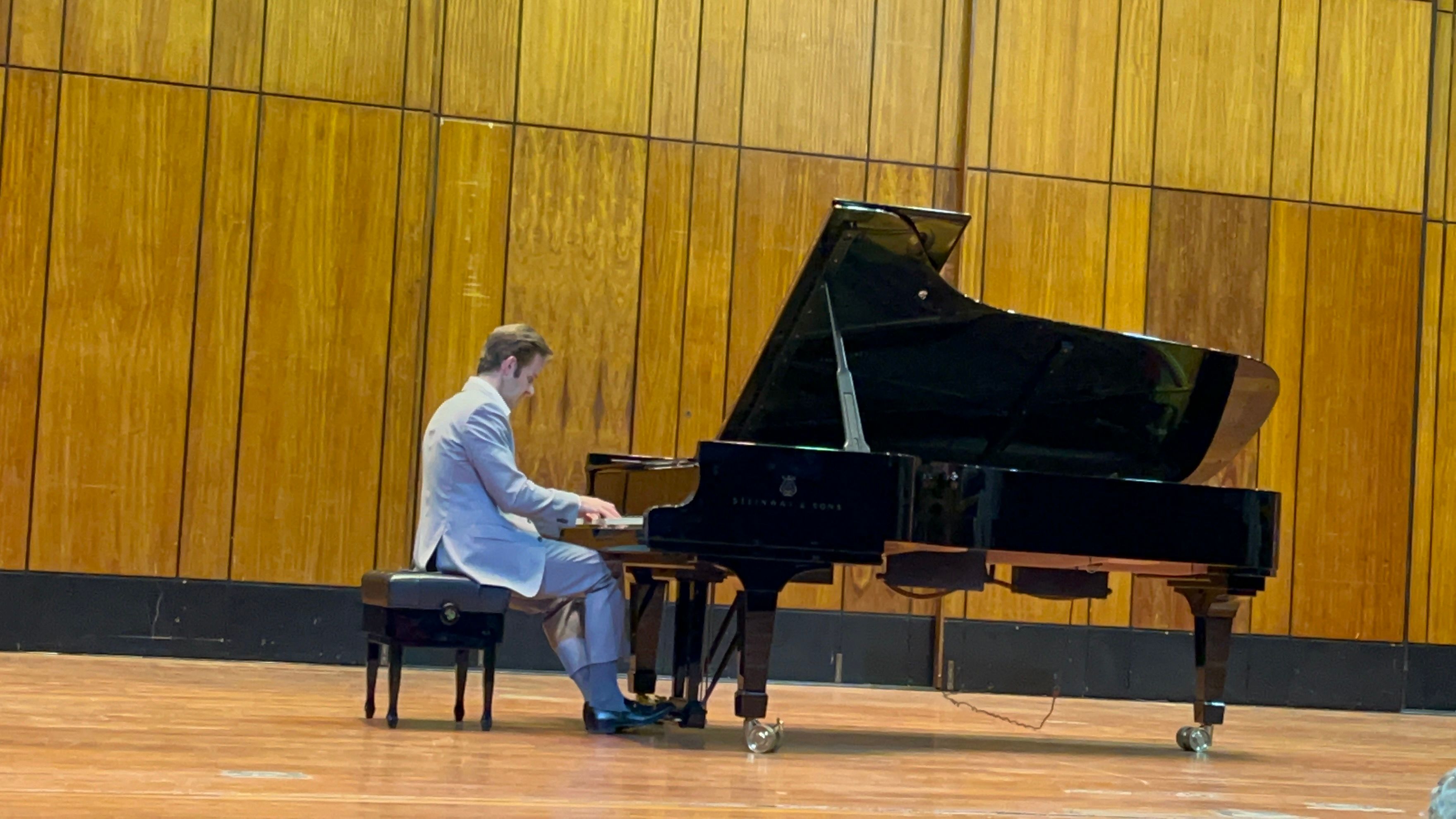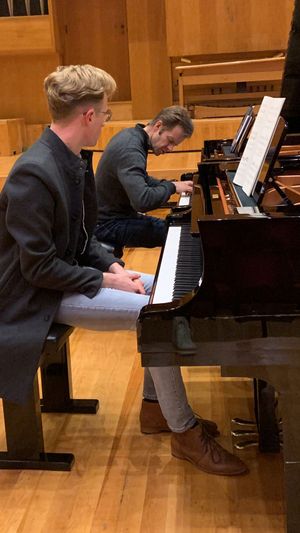 Two concerts (Fort Collins and Denver) with two giant pieces: Beethoven's Kreutzer Violin Sonata and Taneyev's Piano Quintet 
April 26th and May 14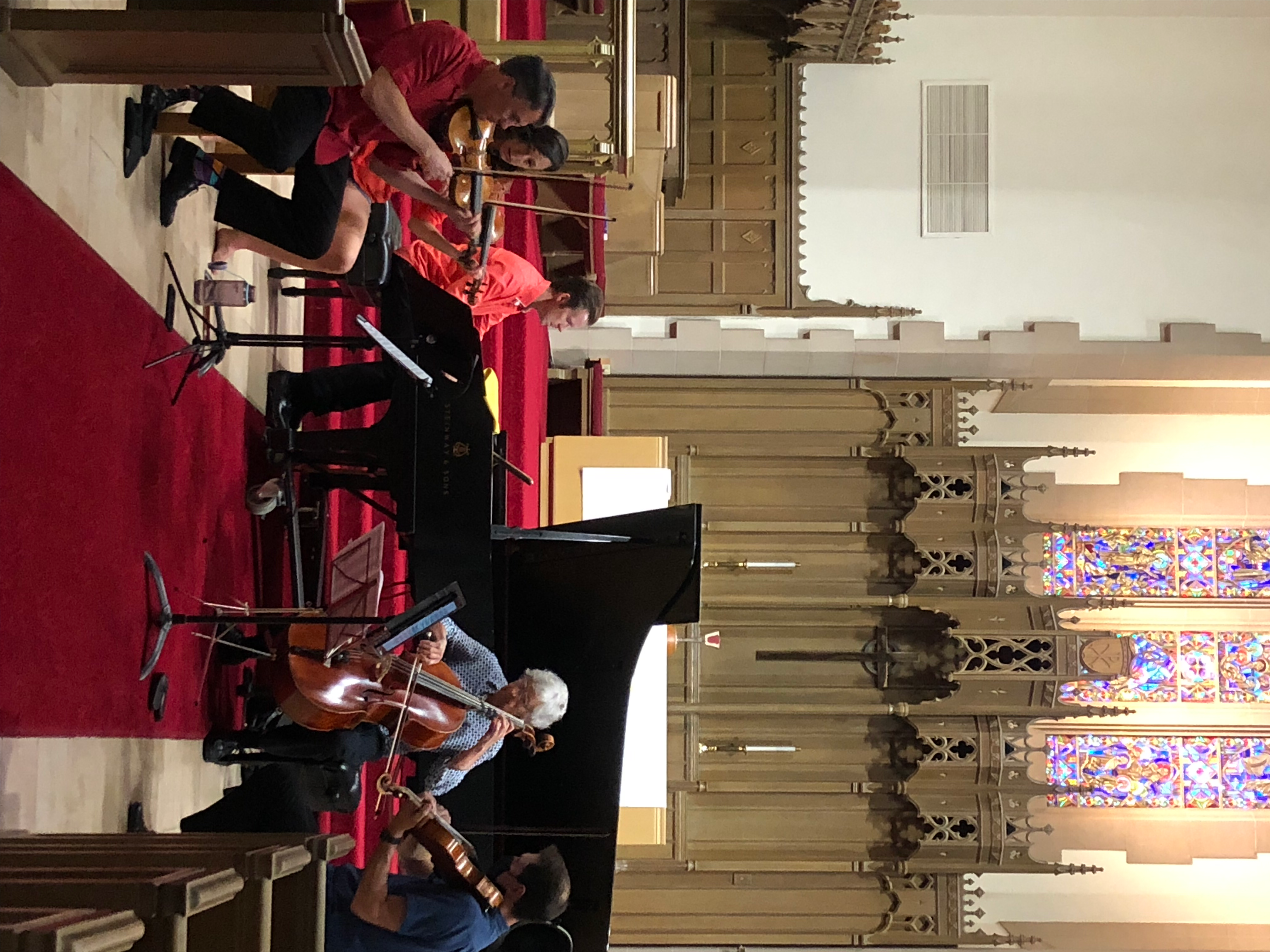 Pictures from my performance of Brahms Concerto No. 2 with Devin Hughes and the Boulder Symphony, April 9, 2022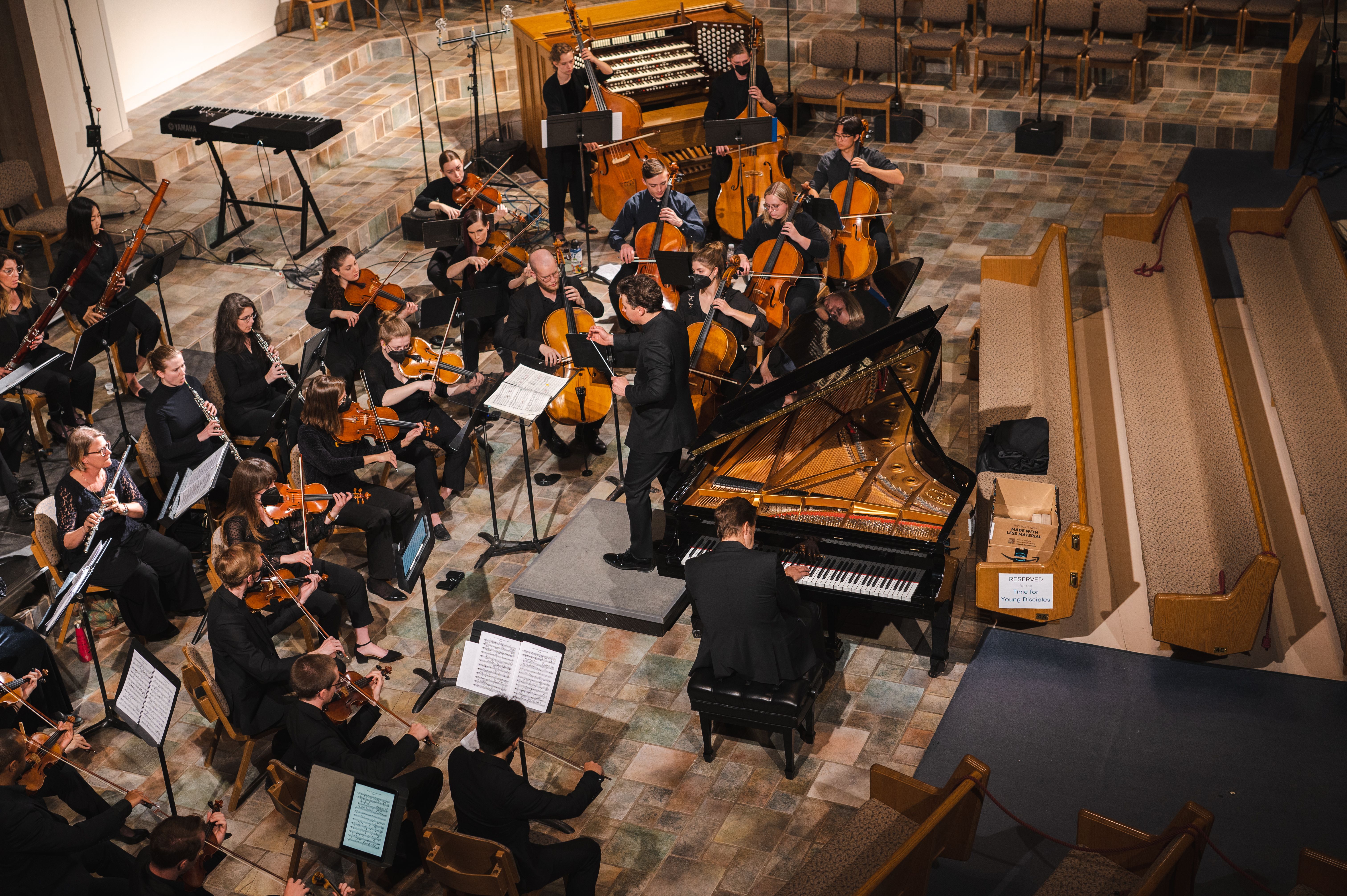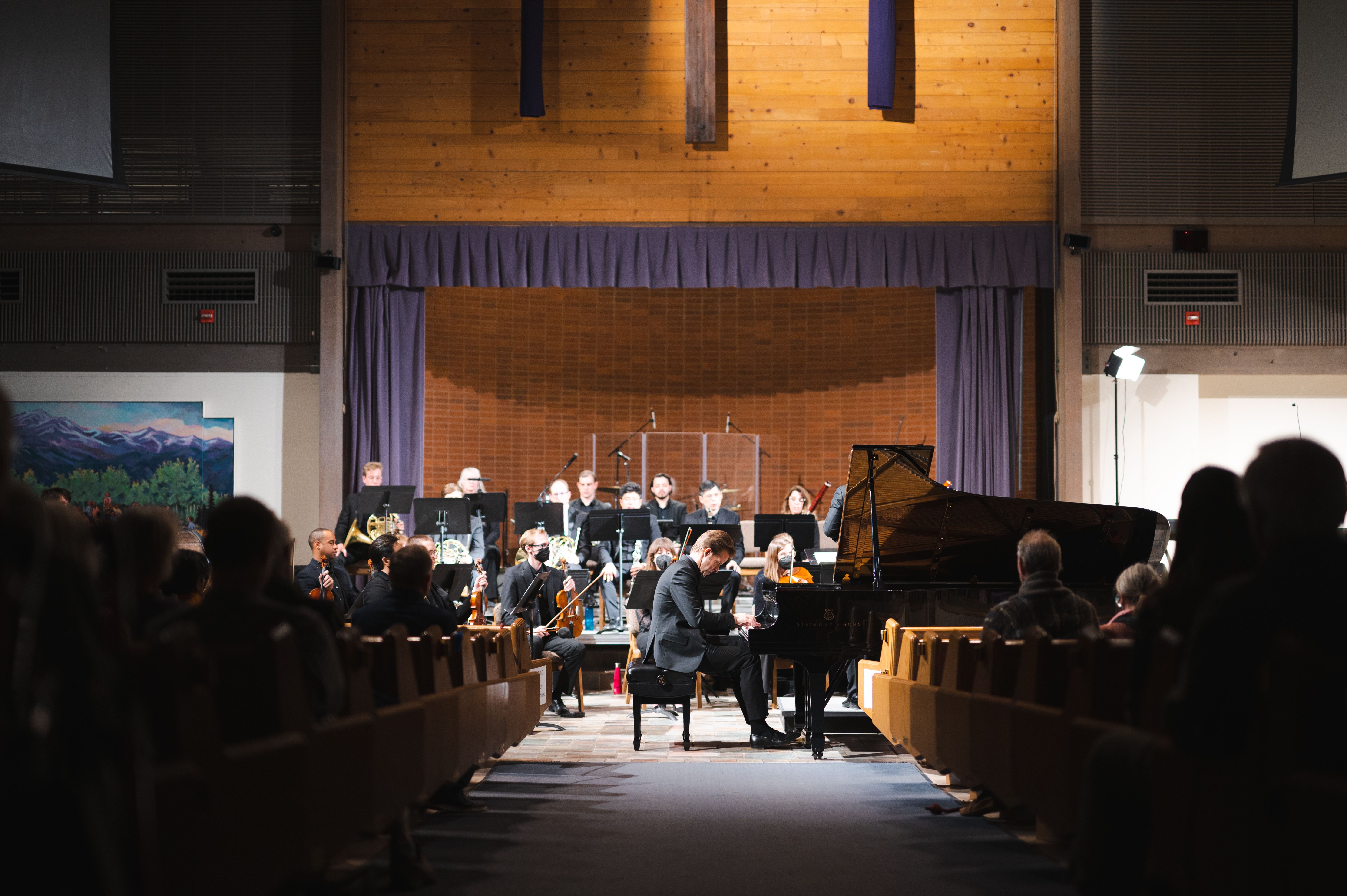 It was a pleasure to play my "Virtuosic Fugue" Vol. 2 recital at the beautiful Gartner Auditorium last week at the Cleveland Museum of Art. March 27, 2022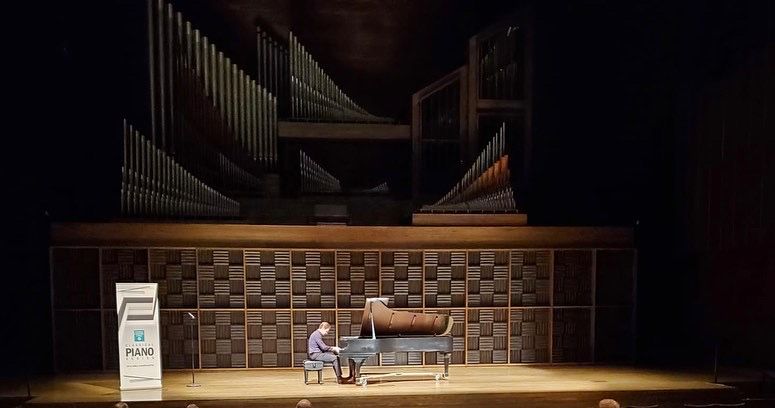 My recital at Colorado State has been snowed out now TWO times in a row!  The next date scheduled is Tuesday March 22, 2022. 
Also looking forward to performing "Virtuosic Fugue" at the Cleveland Museum of Art for the Tri-C Classical Piano Series on Sunday, March 27, 2022.  
https://www.tri-c.edu/arts-and-entertainment/tri-c-presents/index.html
The Mendelssohn Trio will perform for the Second Tuesdays at Trinity Concert Series at the Trinity Presbyterian Church in Arvada, Colorado on March 8, 2022 at 7:30pm
Brahms Trio in B major Op. 8 (revised)
Mary Kouyoumdjian: Moerae (Fates) (2010)
Mendelssohn Trio in D minor Op. 49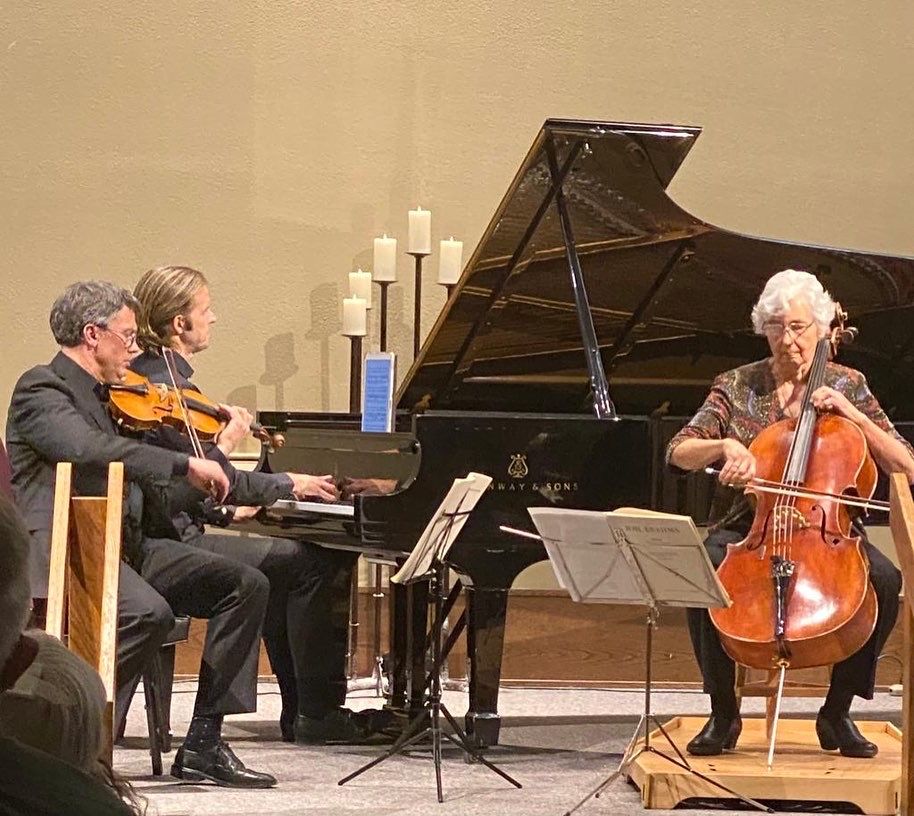 Three upcoming recitals now in January featuring my second volume of the "Virtuosic Fugue" recital:
January 19, 2022 (Postponed to March 22)
Solo Recital- Virtuosic Fugue Vol. 2- Colorado State University Faculty Recital
Bach Toccata and Fugue in D major BWV 912
Mendelssohn Prelude and Fugue in e minor Op. 35
Shostakovich Prelude and Fugue in d minor Op. 87
Marc-André Hamelin Prelude and Fugue in a-flat minor
Beethoven Sonata in B-flat Op. 106 Hammerklavier
January 16, 2022
Solo Recital- Virtuosic Fugue Vol. 2- McKnight Center Oklahoma State University 
Bach Toccata and Fugue in D major BWV 912
Mendelssohn Prelude and Fugue in e minor Op. 35
Shostakovich Prelude and Fugue in d minor Op. 87
Marc-André Hamelin Prelude and Fugue in a-flat minor
Beethoven Sonata in B-flat Op. 106 Hammerklavier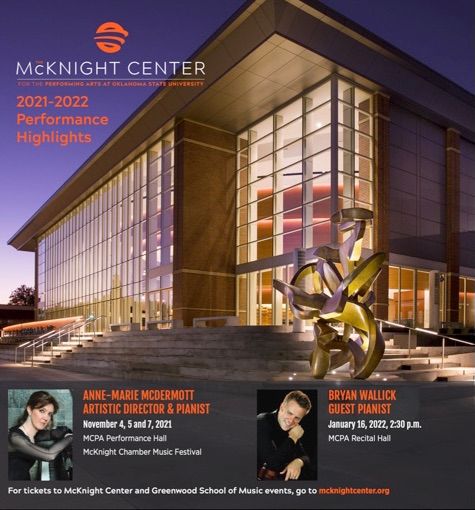 January 13, 2022
Solo Recital- Virtuosic Fugue Vol. 2- Schmitt Music Denver 
Bach Toccata and Fugue in D major BWV 912
Mendelssohn Prelude and Fugue in e minor Op. 35
Shostakovich Prelude and Fugue in d minor Op. 87
Marc-André Hamelin Prelude and Fugue in a-flat minor
Beethoven Sonata in B-flat Op. 106 Hammerklavier
November 19, 2021
Duo recital with cellist Zuill Bailey for Concerts from the Library of Congress. 
https://www.loc.gov/concerts/zuill-bailey-bryan-wallick.html
Mendelssohn Variations Op. 17 
Debussy Sonata 
Lukas Foss Capriccio 
Rachmaninoff Sonata Op. 19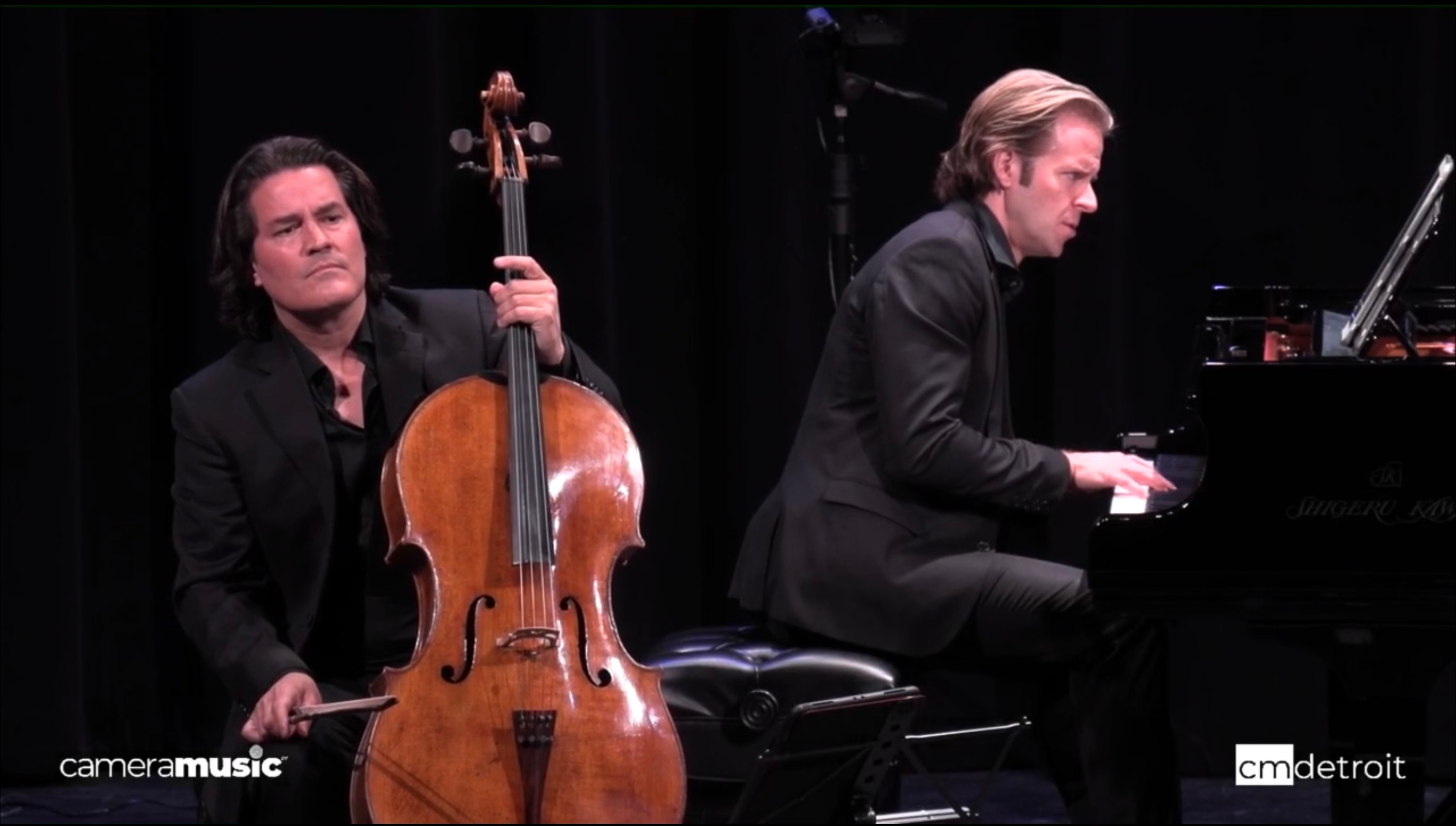 November 13, 2021
Mozart Concerto No. 21 in C major with Brevard Symphony and Chris Confessore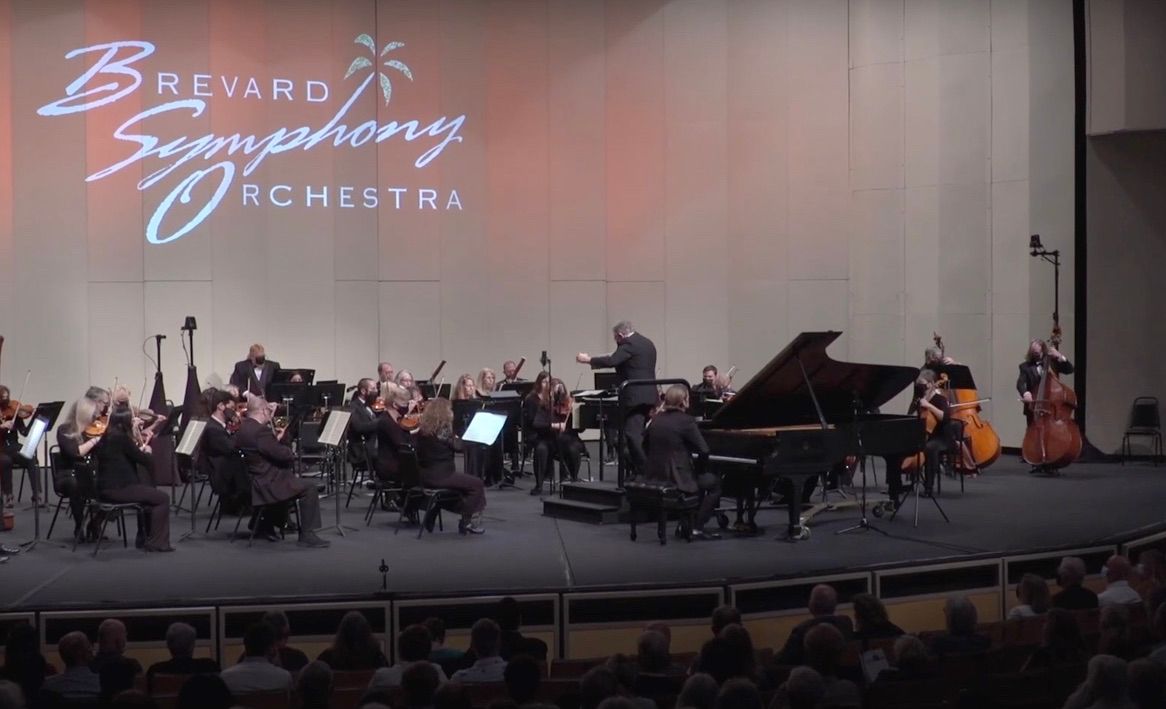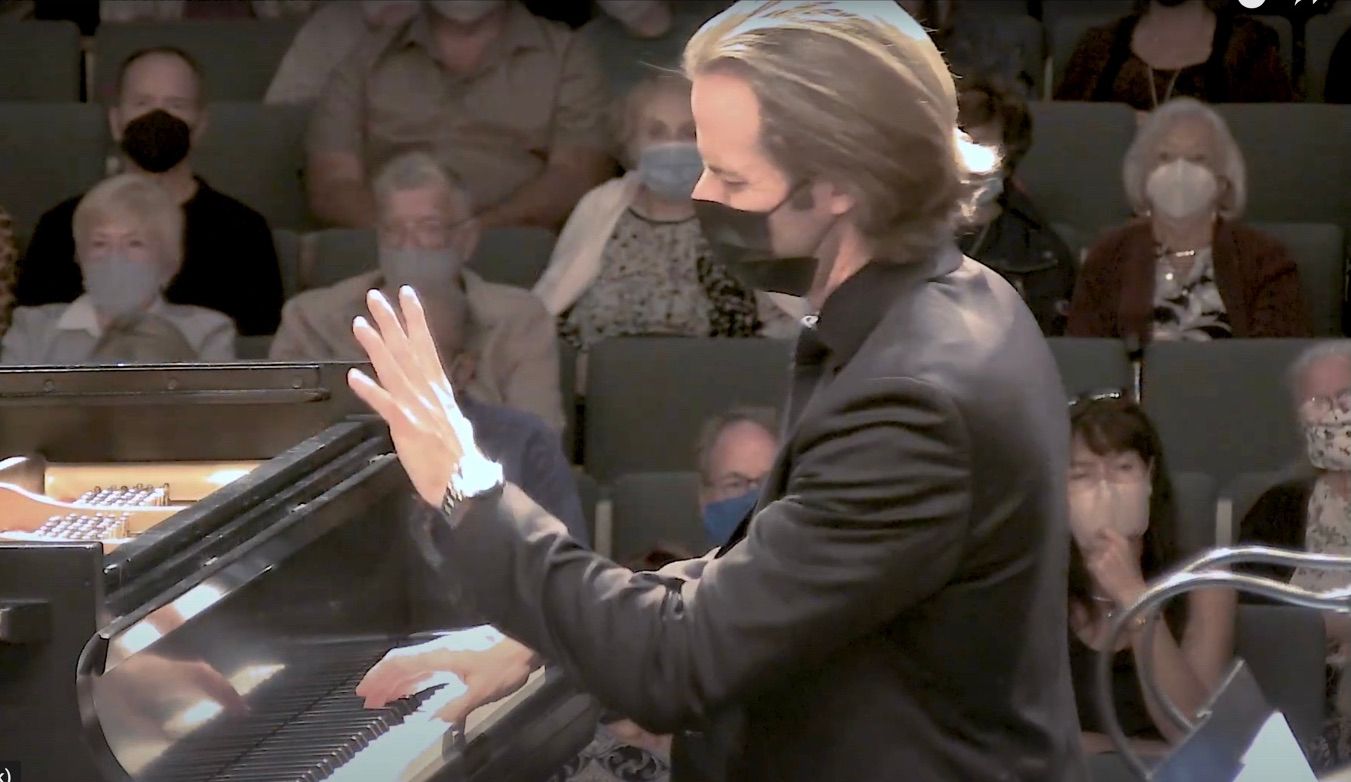 Guest artist interview:
https://www.youtube.com/watch?v=5XikpFzsSs4
November 6, 2021
Coleridge-Taylor Perkinson Grass and Mendelssohn Concerto No. 1 in G minor with Fort Collins Symphony and Wes Kenney.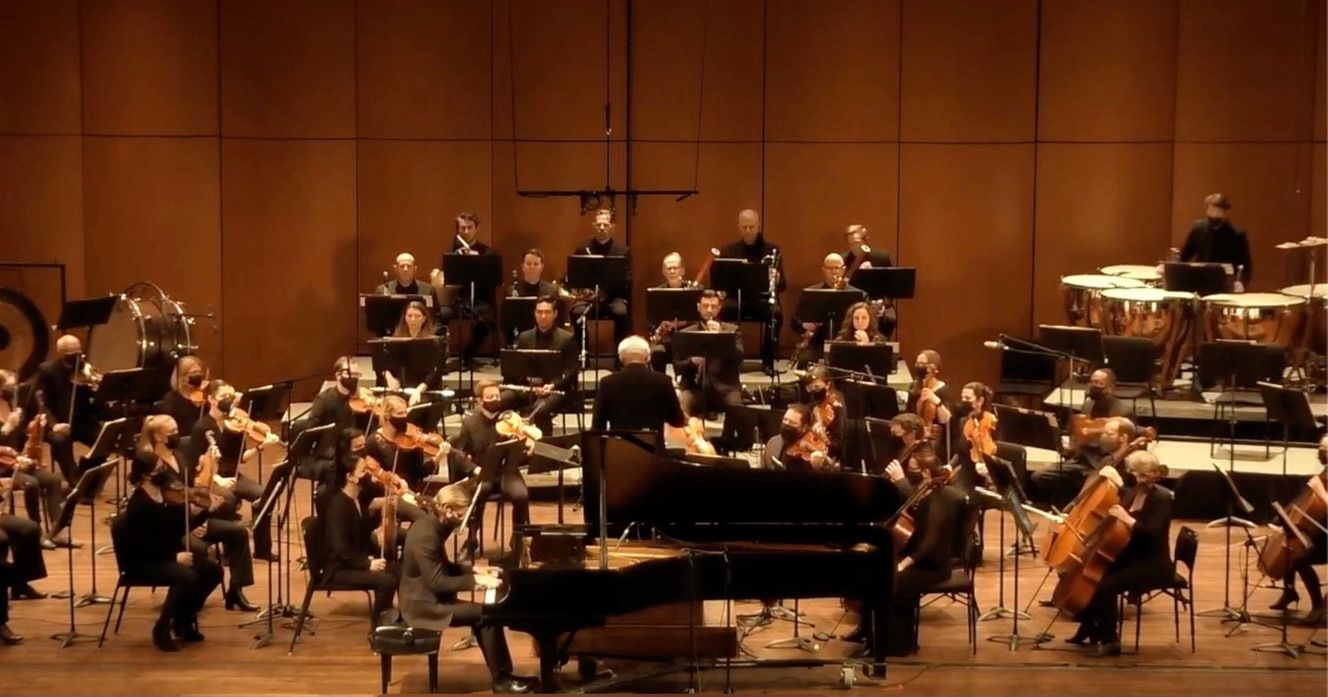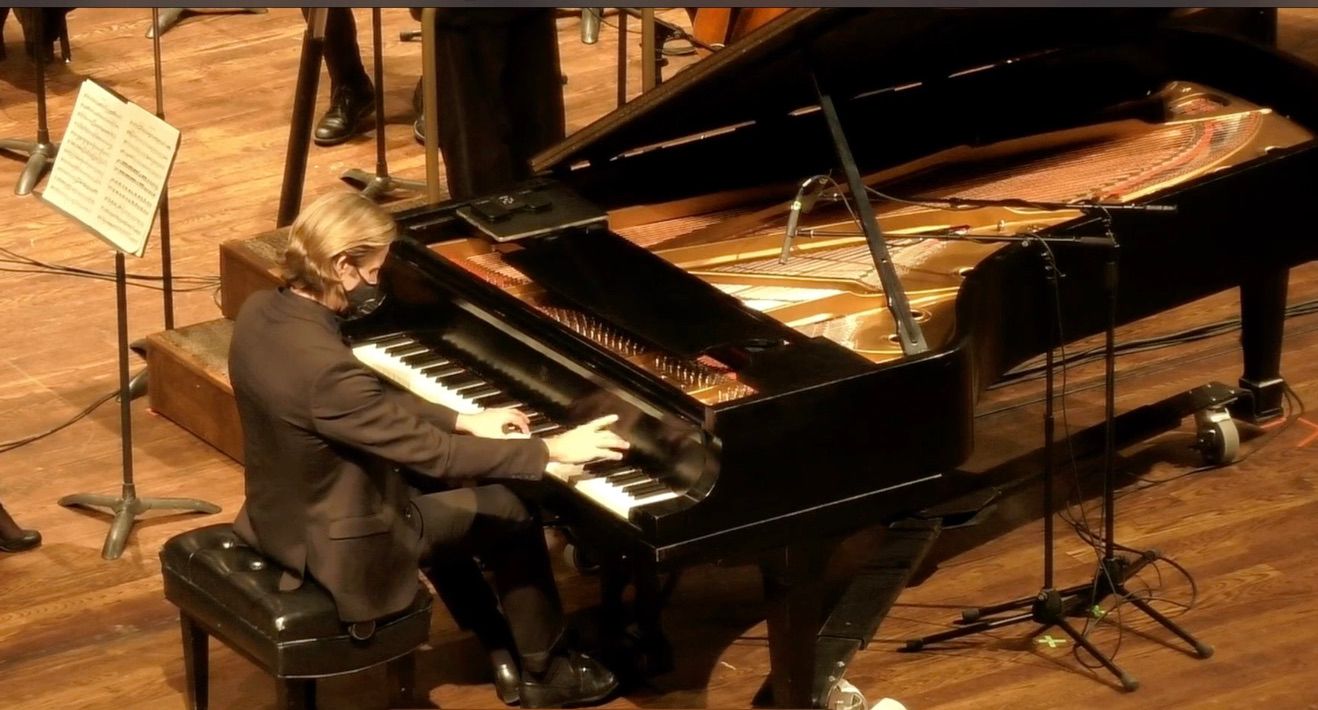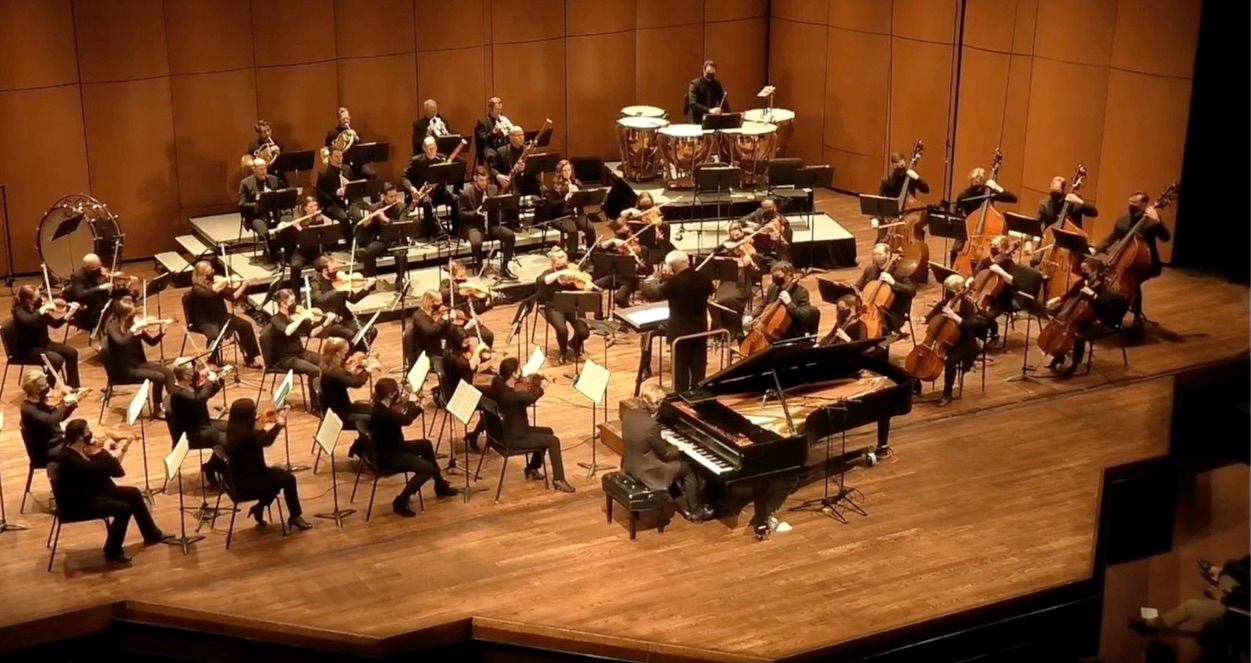 Guest artist interview:
https://www.youtube.com/watch?v=89pV23TQKTE
November 1, 2021 7:30pm 
CSU Faculty Concert:
Brahms Piano Quintet in F minor Op. 34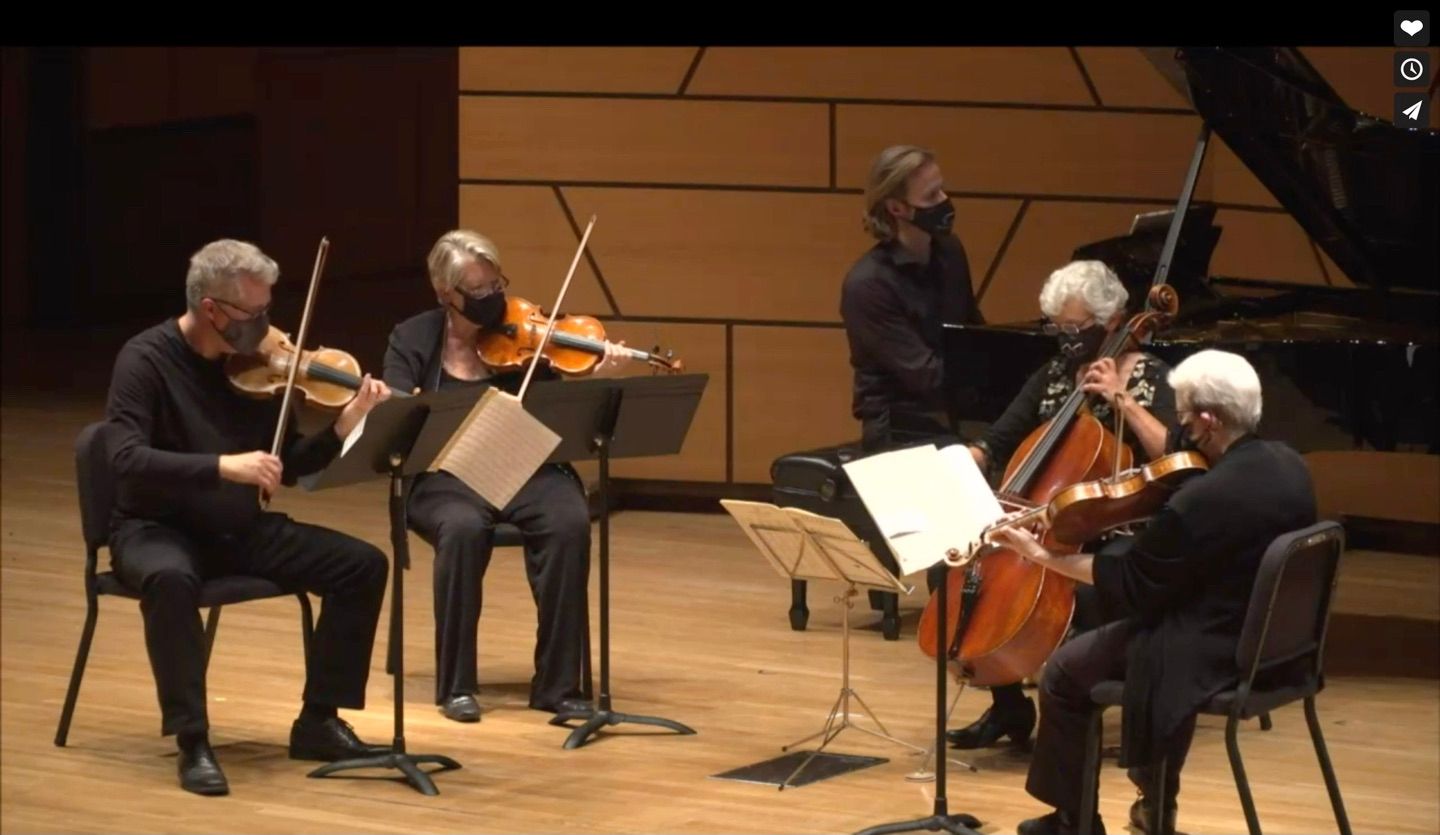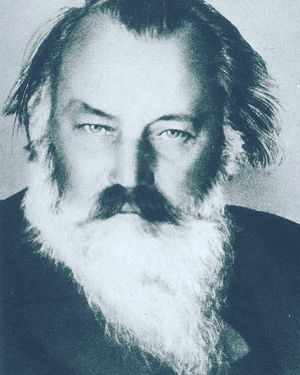 October 20, 2021 7:30pm
The Mendelssohn Trio plays a program of:
Brahms Trio No. 1 B major Op. 8 (Revised)
Kenji Bunch Dies Irie
Mendelssohn Trio No. 1 in D minor Op. 49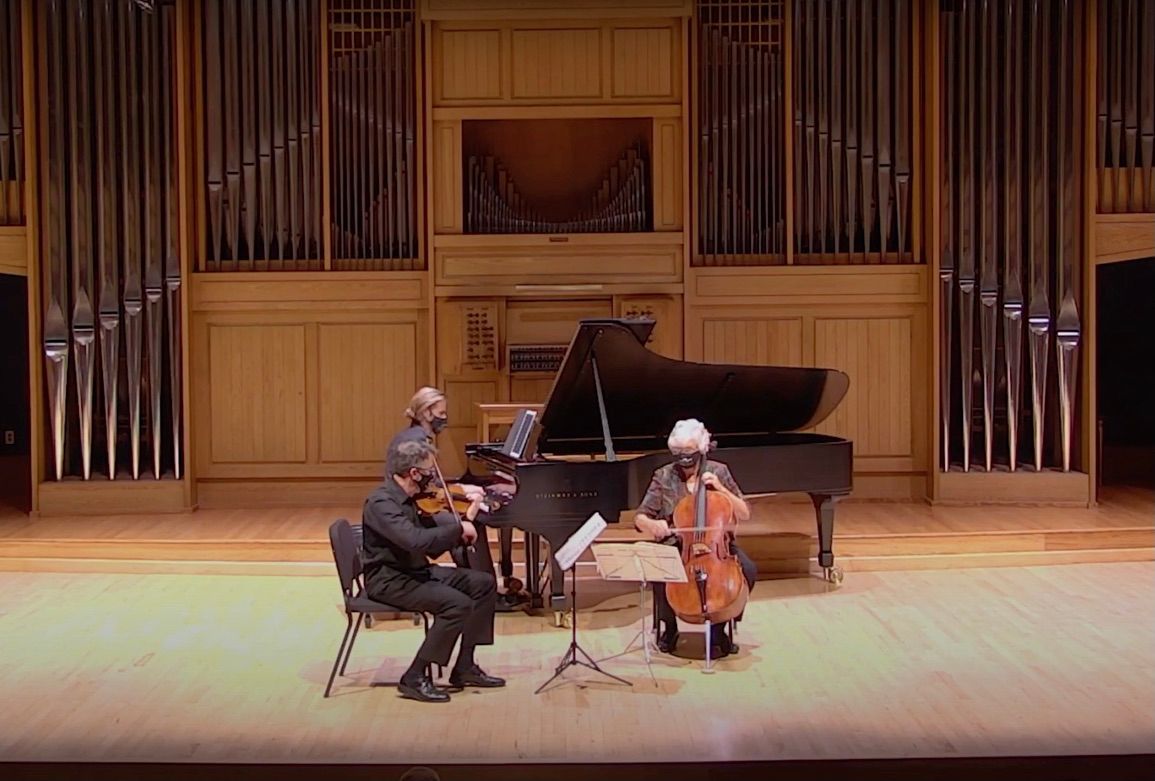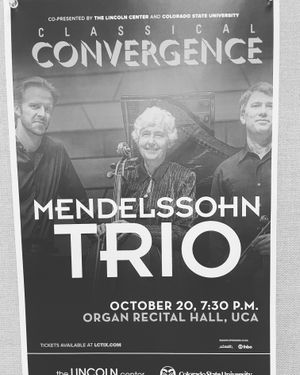 It was great to be in Hickory, North Carolina and play live concerts again with the Western Piedmont Symphony! (October 9, 2021)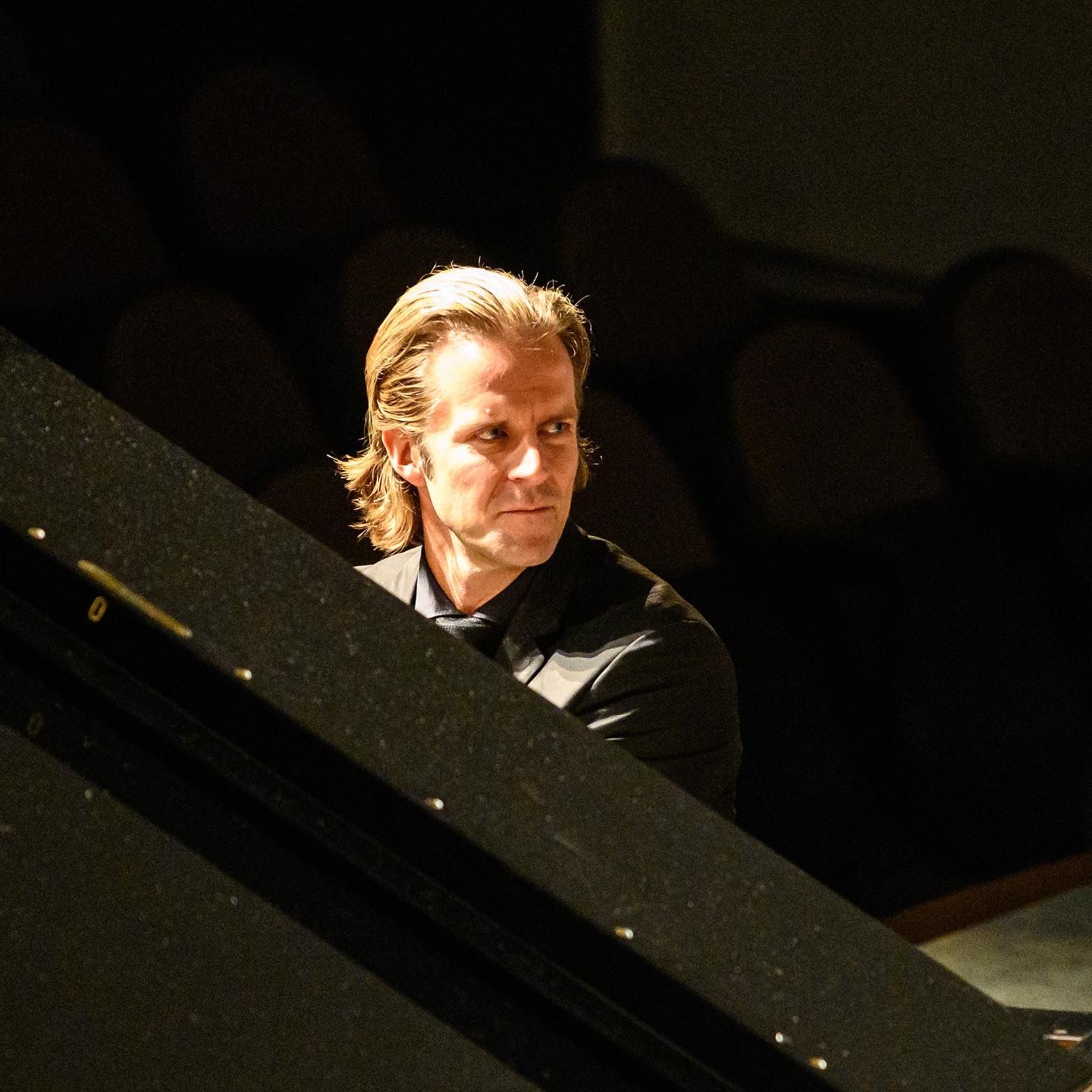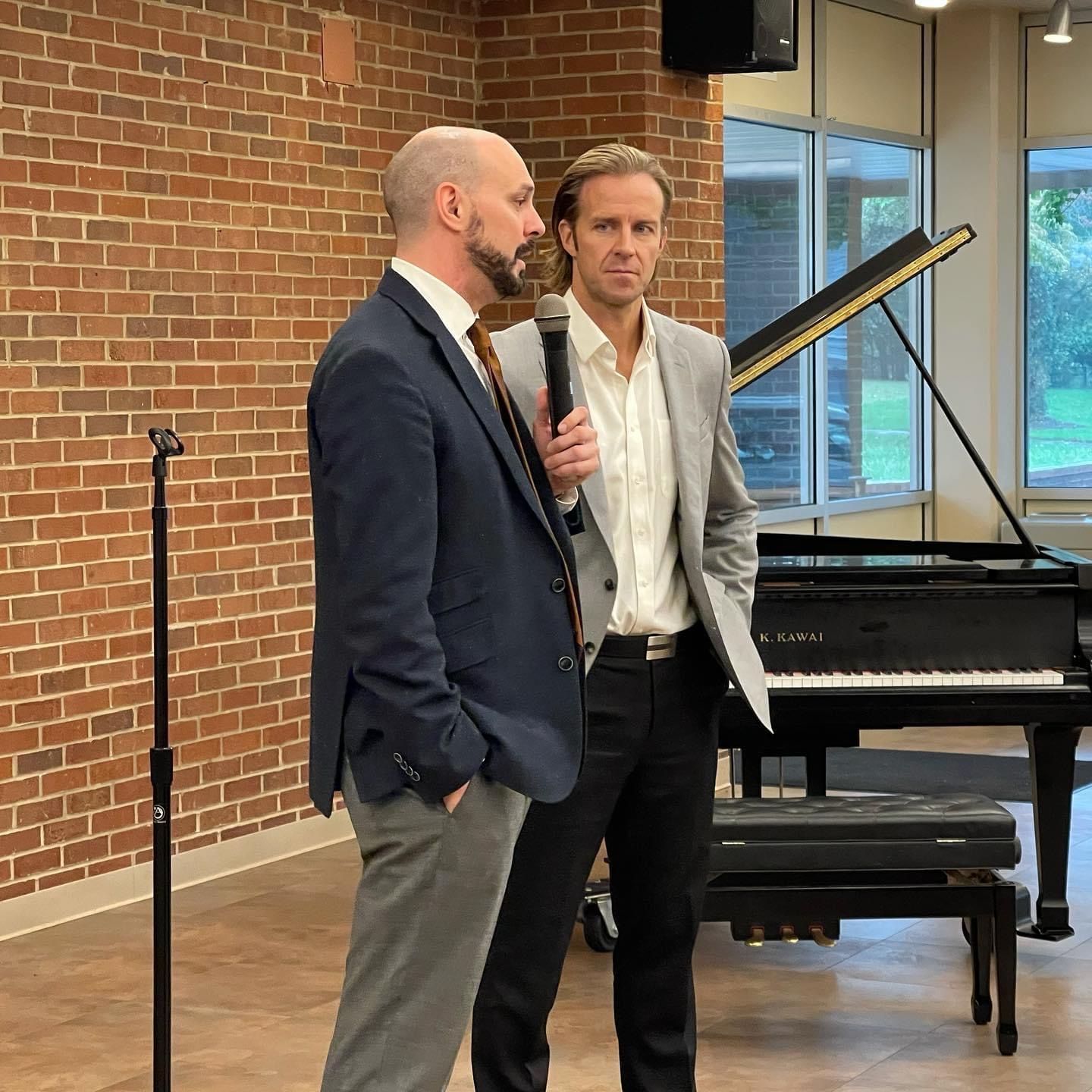 Looking forward to the start of the 2021-22 concert season with Liszt Concerto No. 1!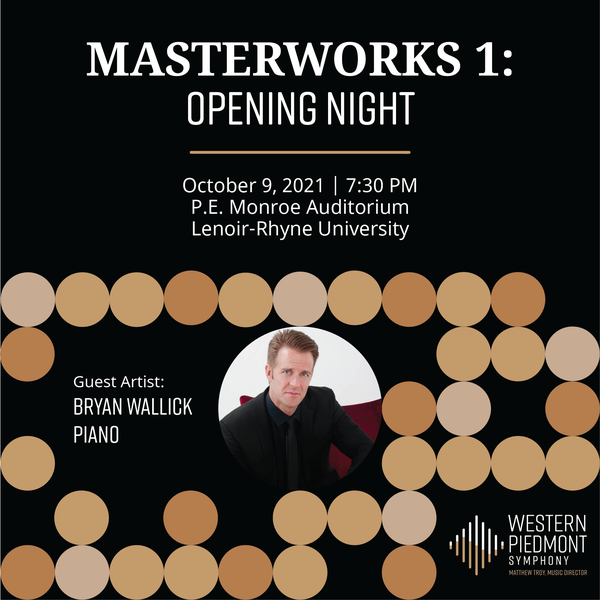 May 1, 2021  First public concert since lockdown with Zuill Bailey at Detroit Chamber Music Society!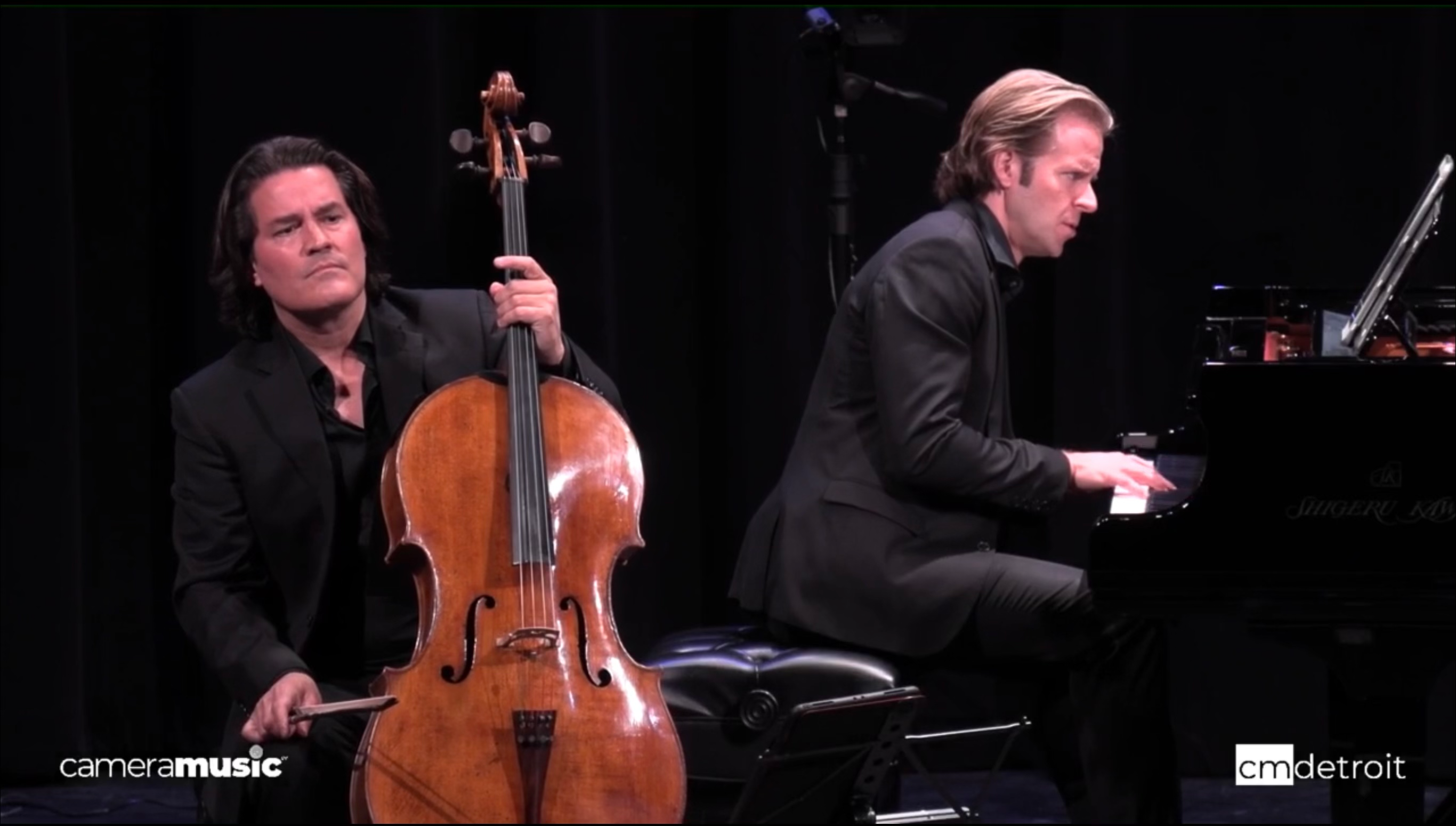 Livestream can be viewed until May 8 at:
https://www.cameramusic.org/allconcerts/zuill-bailey
March 2021
Beethoven Triple Concerto Wins Best Achievement in Classical Music for 2021 kykNET Fiestas!
You can watch the production with the link below:
Beethoven Triple Concerto (Trio Version)
March 9, 2021 7:15pm Mountain Time
Front Range Chamber Players presents the Mendelssohn Trio in conjunction with Colorado State University's Virtuoso Series:
This will be a free concert and can be streamed at:
Program: 
Rachmaninoff Cello Sonata Op. 19
Tchaikovsky Trio in A minor.  
Monday November 1, 2020
I performed the Dvorak Quartet No. 2 on the faculty concert at Colorado State University 
Tickets for streaming below:
https://csuartstickets.universitytickets.com
Monday September 28, 2020
The first concert of the season was a trio performance with the Mendelssohn Trio, trio in residence at Colorado State University:
We performed Beethoven's Ghost Trio, Dies Irae by Kenji Bunch, and  Brahms B major Trio Op. 8 (revised) 
Tickets for streaming below:
https://csuartstickets.universitytickets.com
Most all concerts have been postponed or cancelled for the Fall 2020/Spring 2021 season, but I will update on any developments for events which may take place.  
I was involved with a few recording projects this Summer (2020): 
The first was an inter-continental collaboration with violinist Frank Stadler, concertmaster of the Mozarteum Orchestra, Salzburg and cellist Peter Martens, principle cellist of the Cape Philharmonic, South Africa.  We recorded the trio version of Beethoven's Triple Concerto Op. 56, arranged by Carl Reinecke which was produced by the Cape Philharmonic and premiered at the Klein Karoo Klassique Festival in August 2020.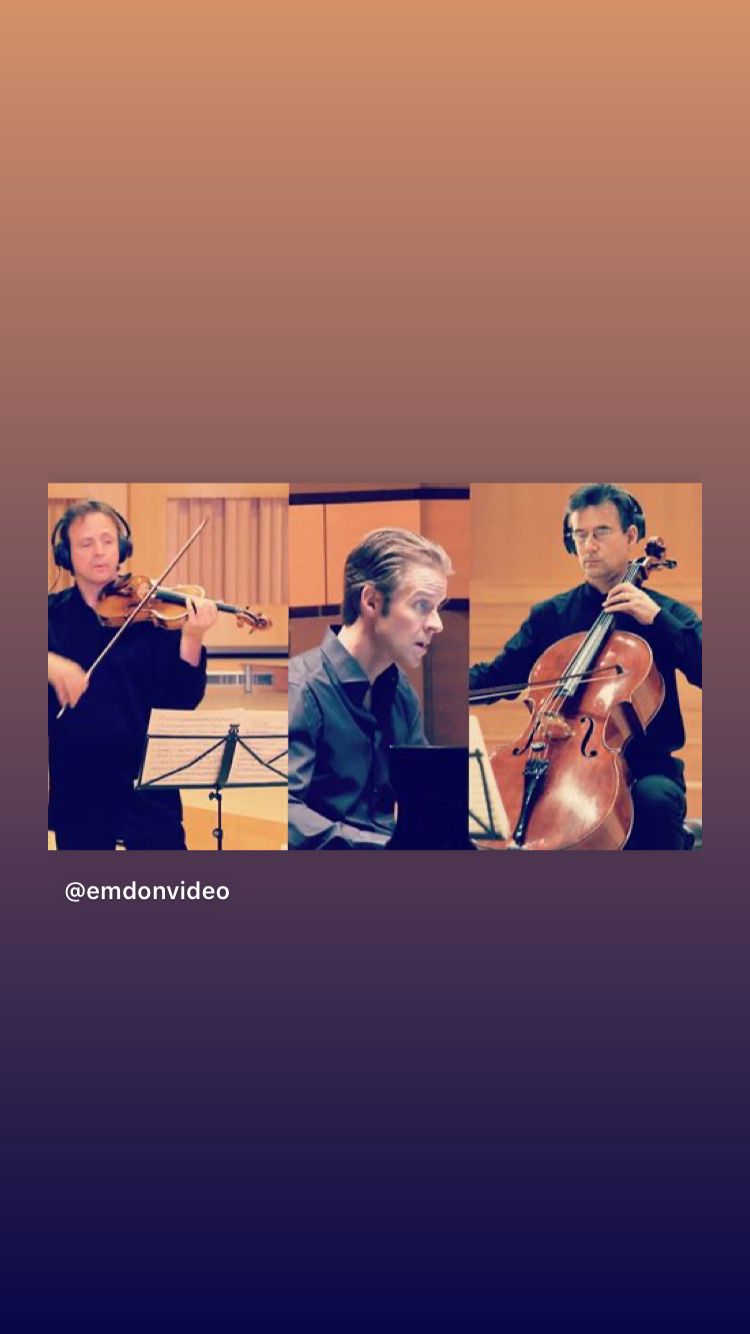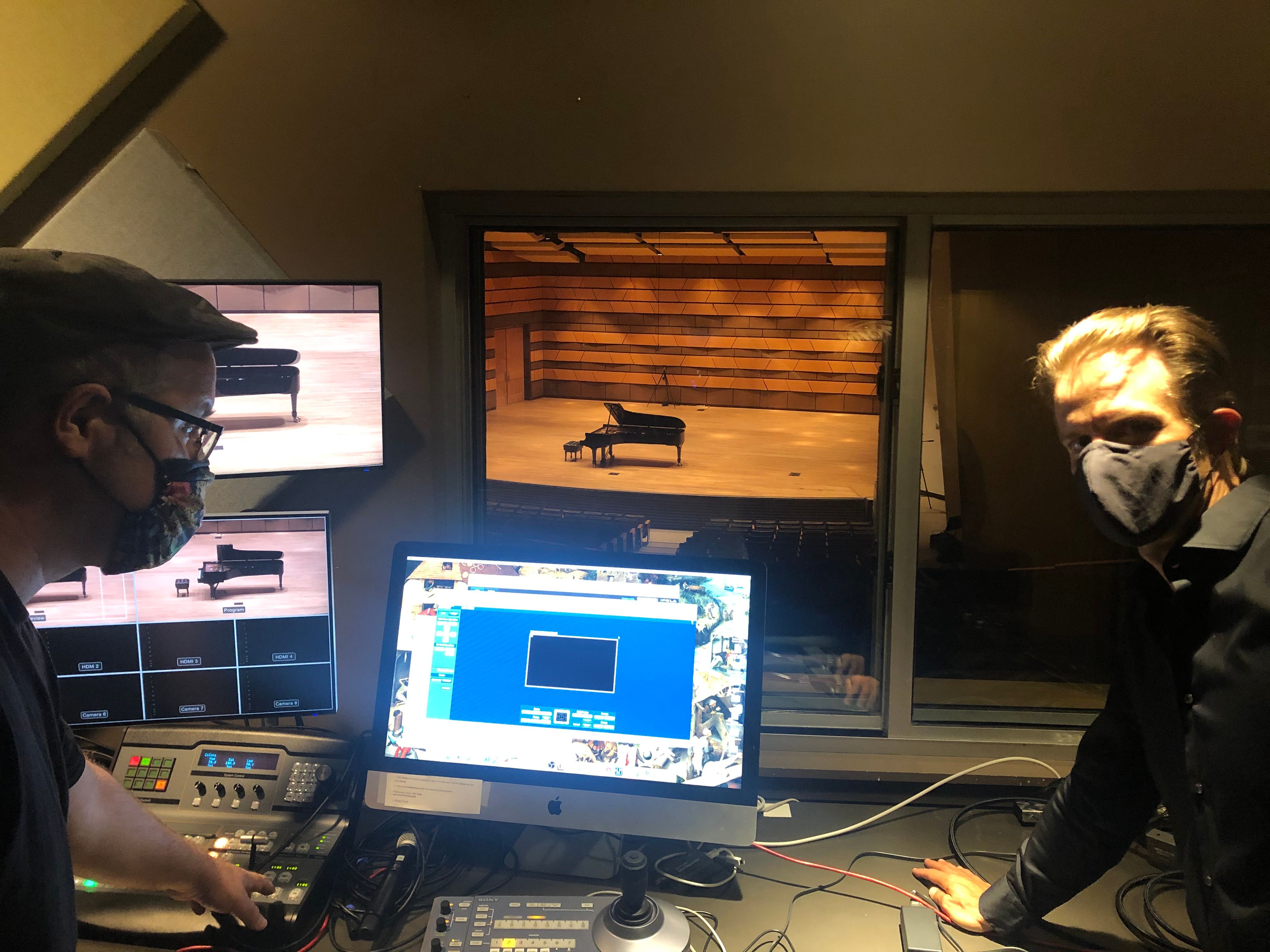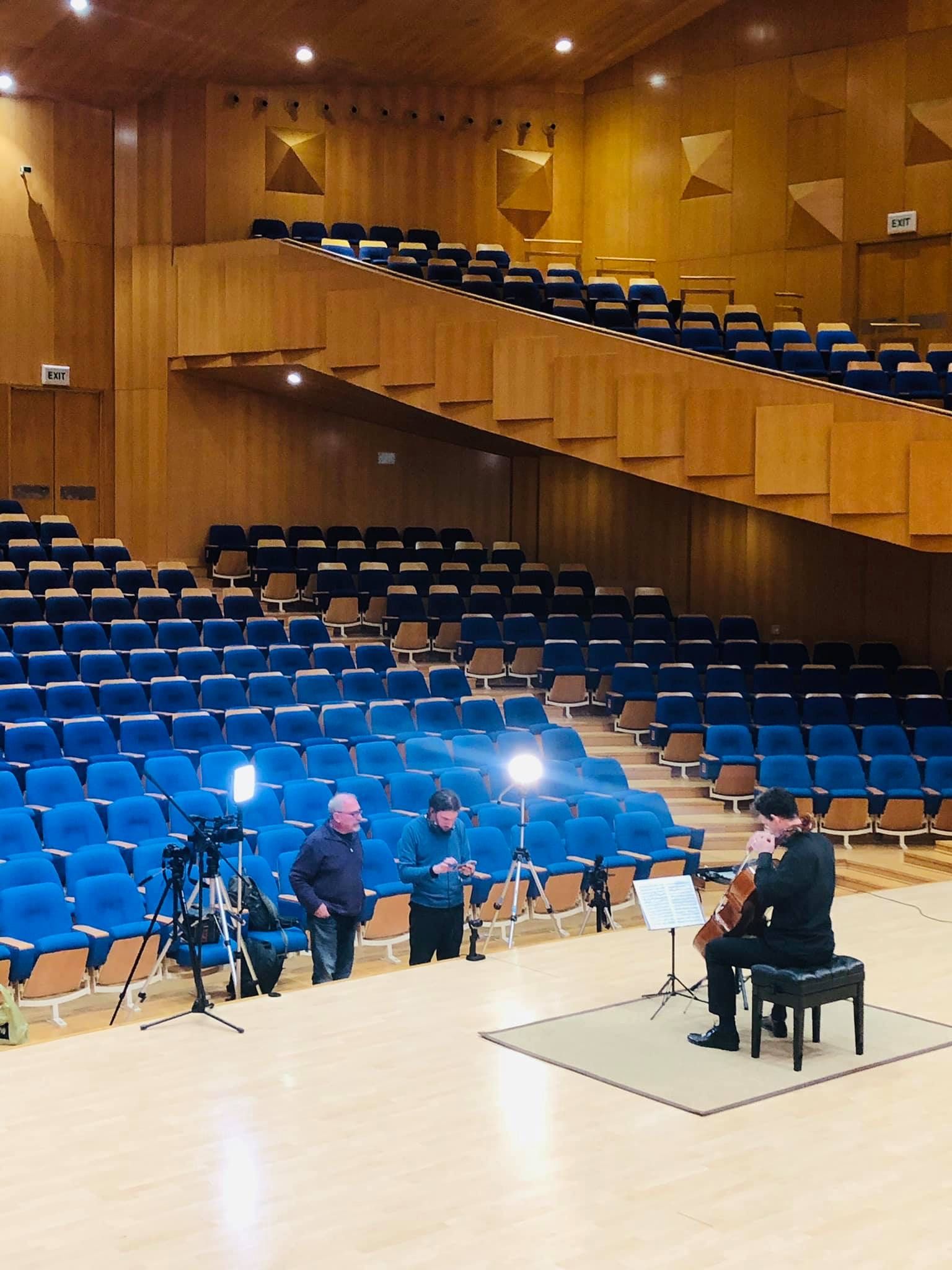 I had an interview with great pianist and colleague Konstantin Soukhovetski on his new Youtube channel which where he highlights the inner-workings of a pianists life and career, chatting about all sorts of things concerning careers, competitions, performing, etc....
Kreative by Konstantin - Episode 8: BRYAN WALLICK
An American pianist Bryan Wallick is a Gold medalist of the 1997 Vladimir Horowitz International Piano Competition in Kiev, he has performed throughout the U...
My debut performance with the Memphis Symphony Orchestra on February 29 and March 1, 2020, with Robert Moody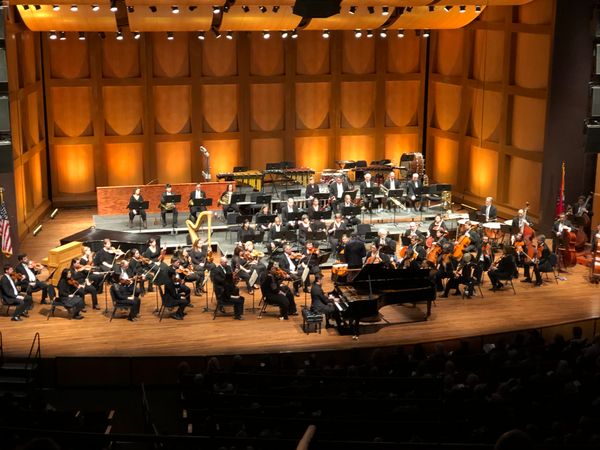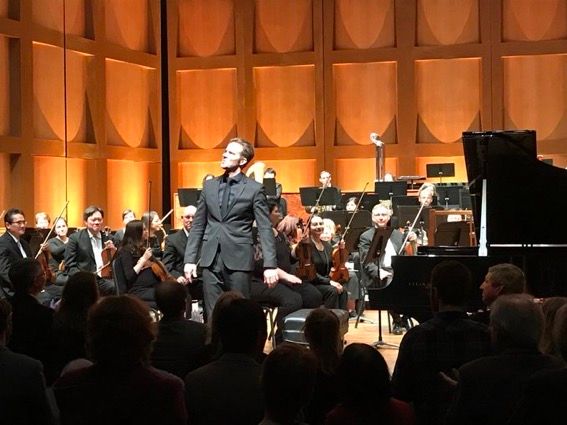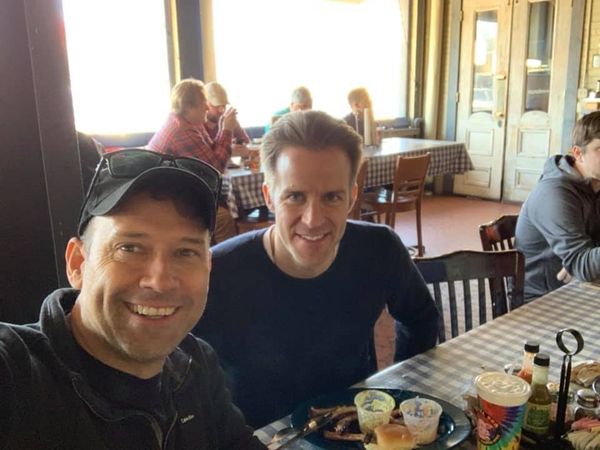 Masterclass with piano students at the University of Memphis March 2020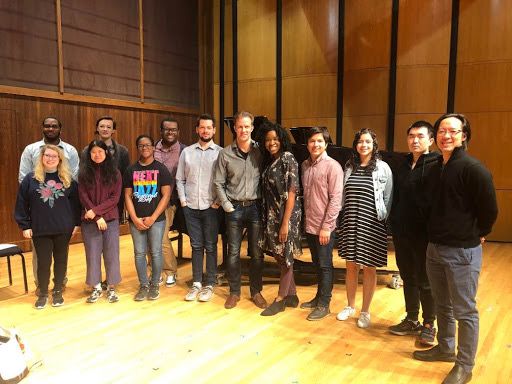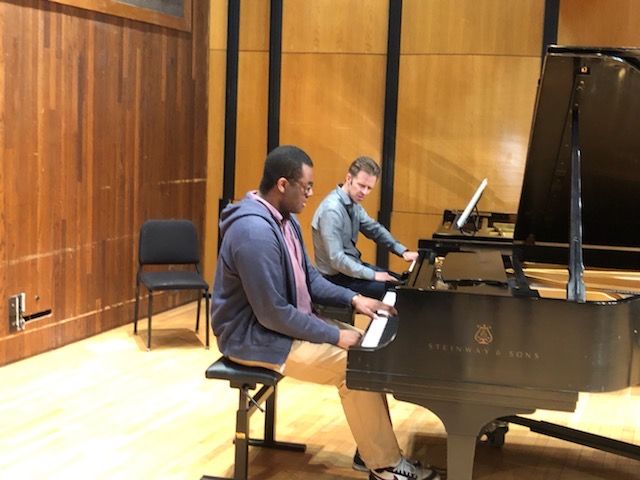 My debut with the Colorado State University Symphony Orchestra on December 3, 2019 performing Rachmaninoff Rhapsody on a theme of Paganini with Maestro Wes Kenney: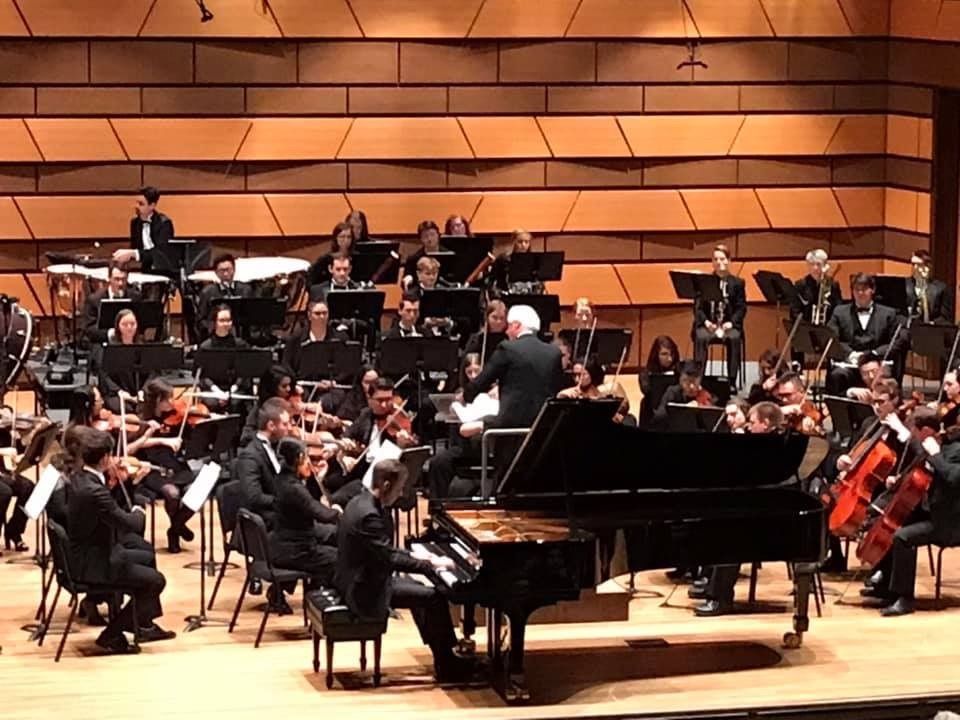 Recital for Grand Teton Music Festival, November 15, 2019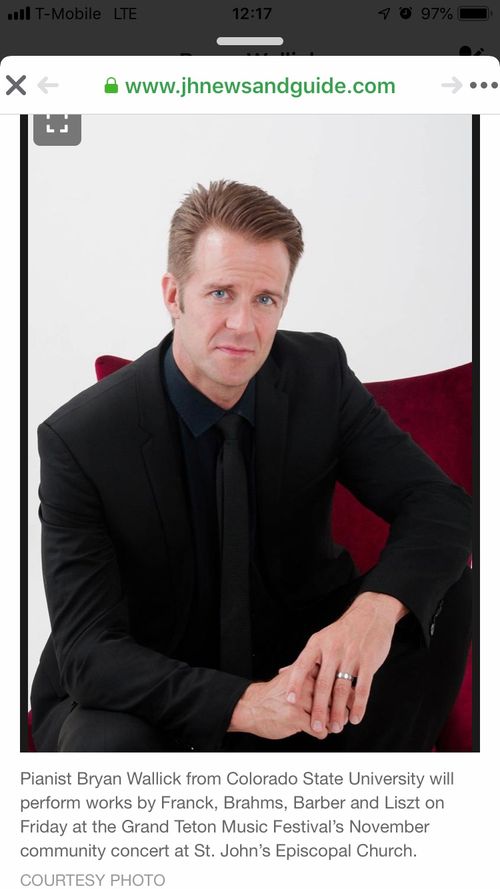 Judging the Olga Kern International Piano Competition: November 2019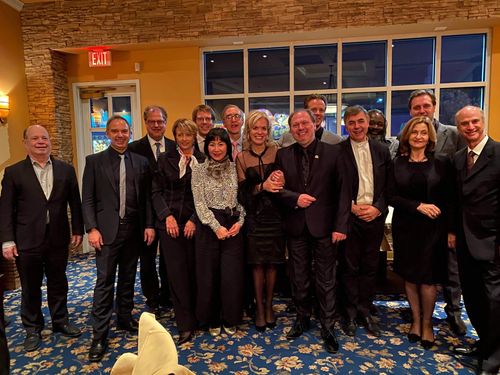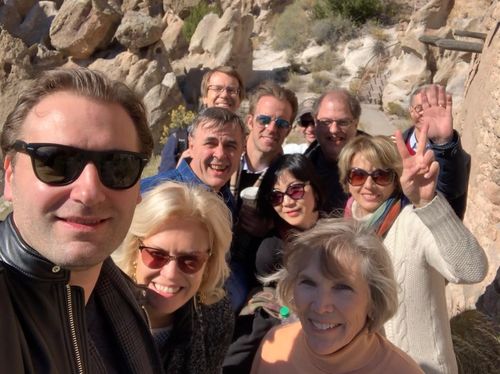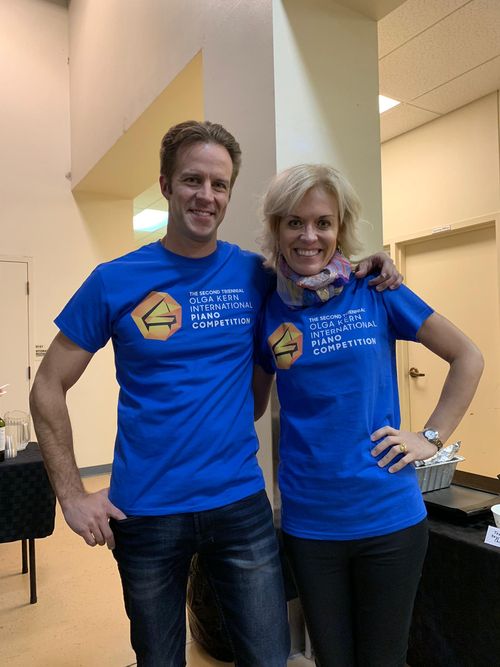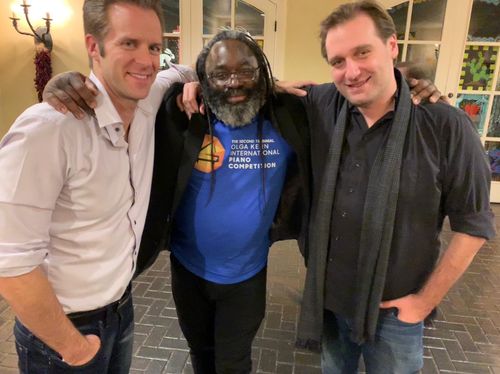 Opening Recital for Virginia Piper Classical Series at the Scottsdale Center for Performing Arts: October 26, 2019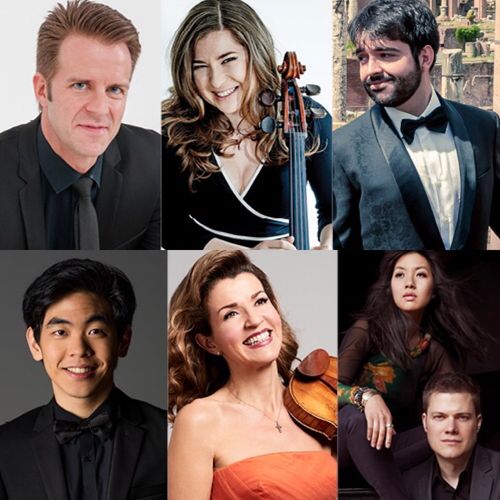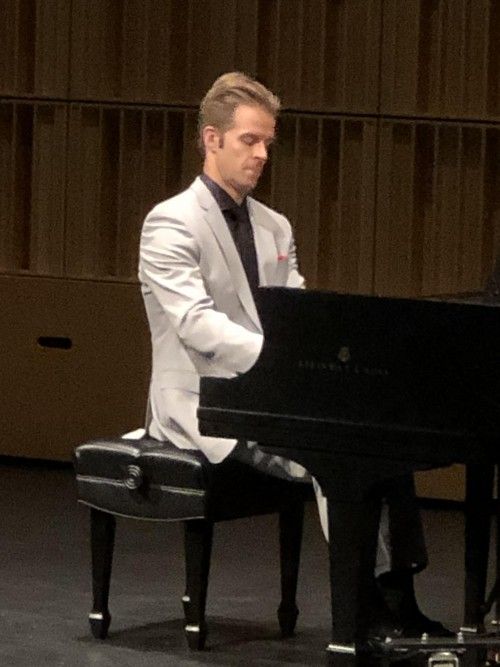 Outreach event for Texas Women for the Arts with Zuill Bailey: October 23, 2019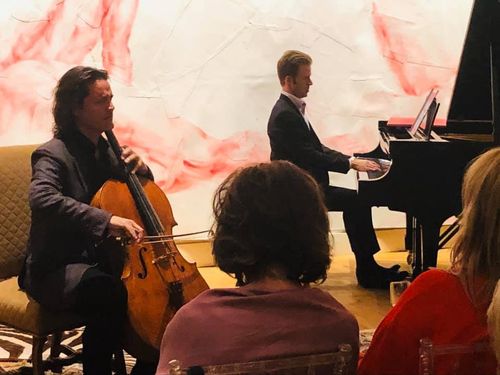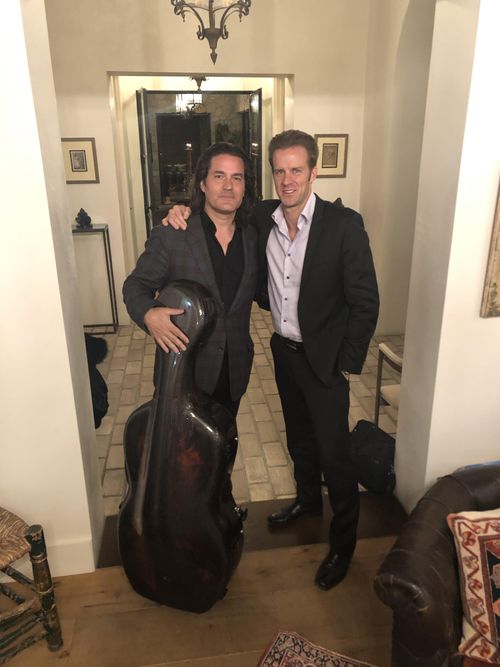 Recital at Fox Fine Arts Recital Hall for El Paso Pro-Musica: October 22, 2019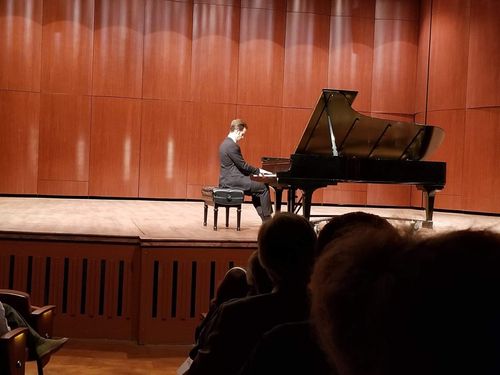 Recital at Las Cruces, New Mexico, October 21, 2019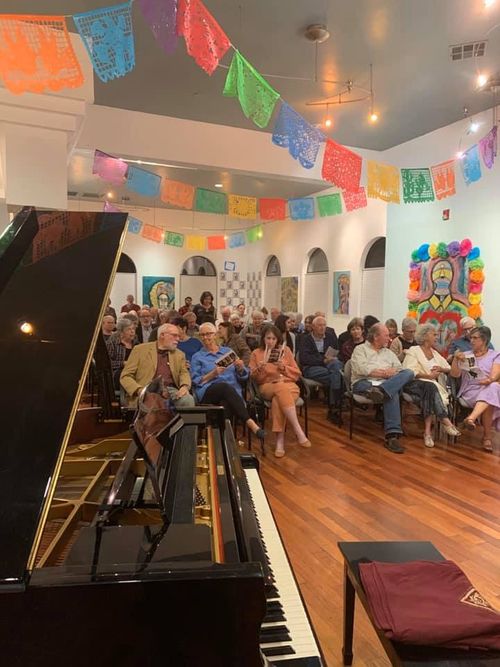 Masterclass with piano students at UTEP: October 21, 2019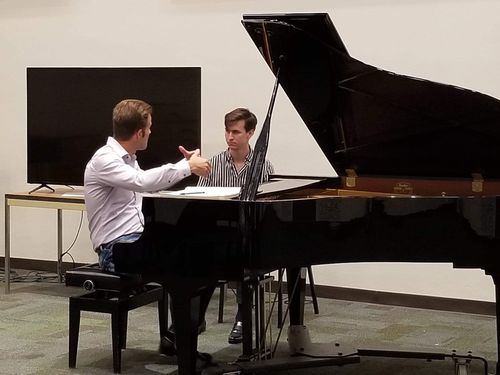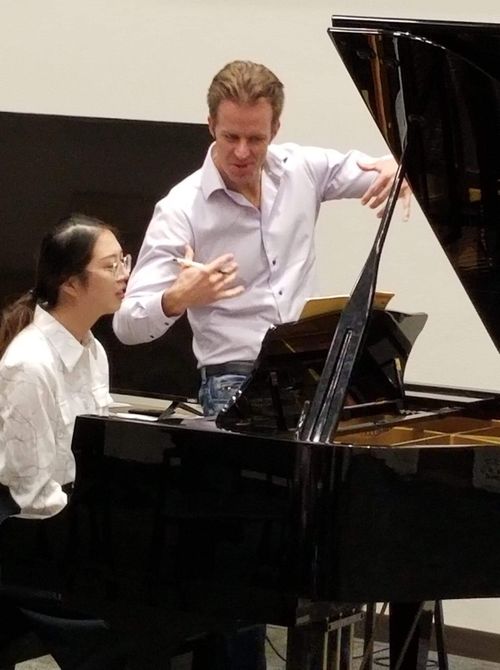 Outreach events with Zuill Bailey at El Paso Museum of Art and UTEP music classes: October 21, 2019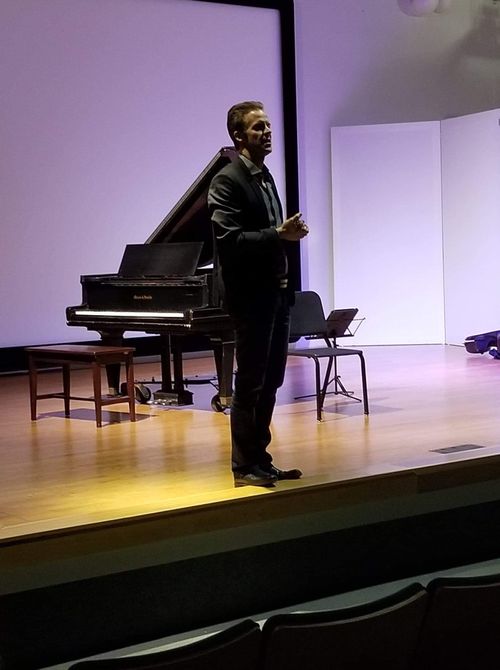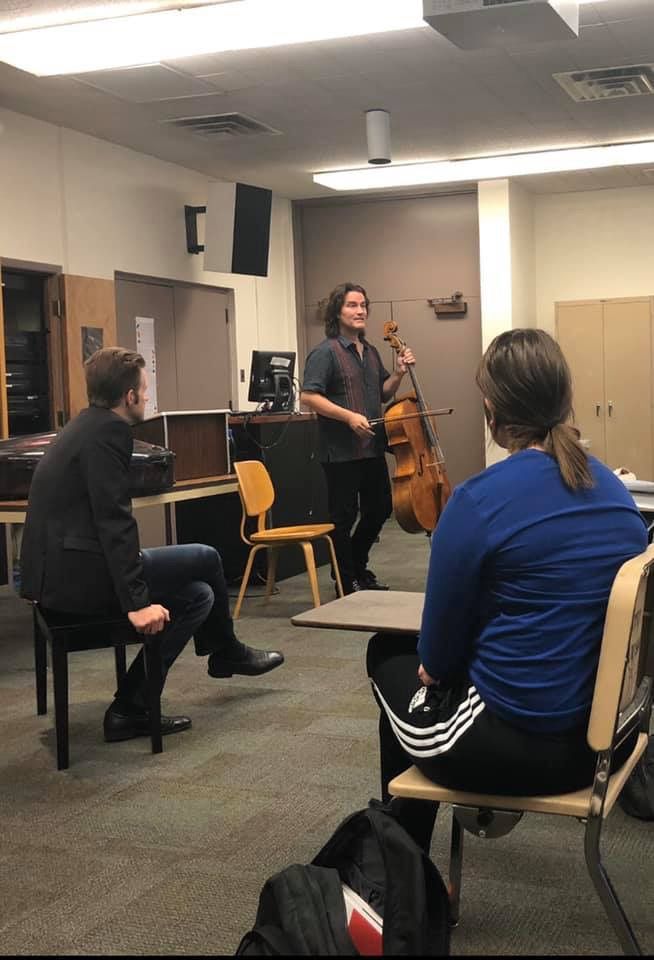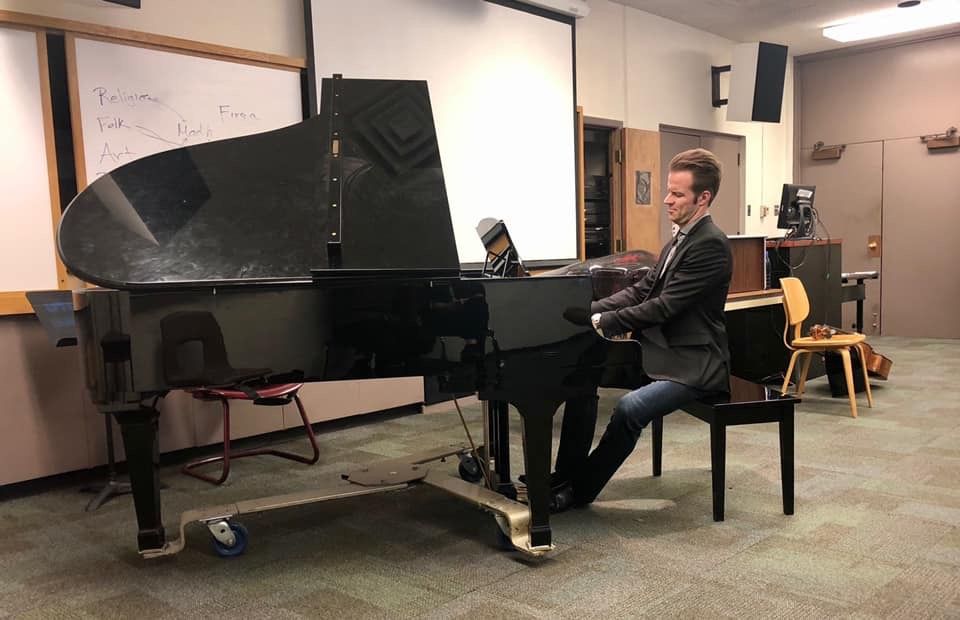 ABC News Interview and KTEP Radio Interview for my Fugue Program in El Paso, Texas and Las Cruces, New Mexico, October 21, 2019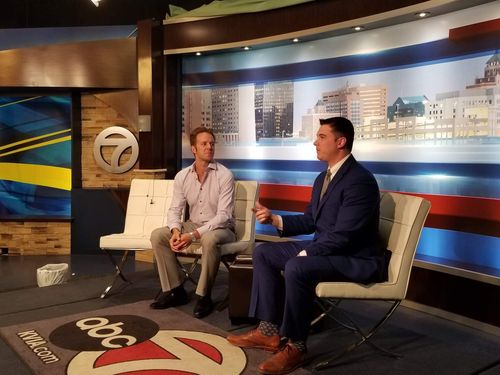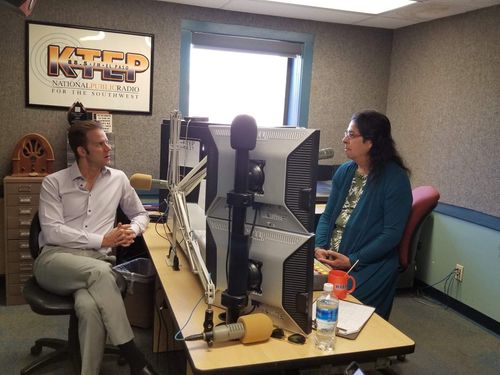 Judging the Colorado Music Teacher's Association Competition for High School and Young Artists: October 19, 2019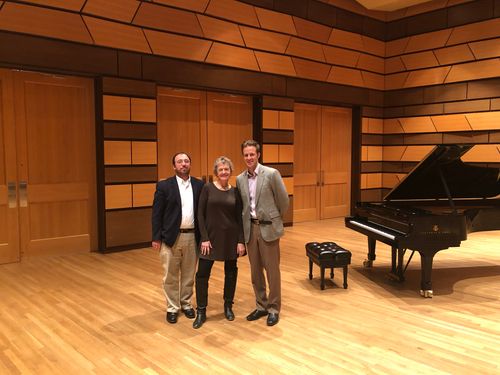 My first faculty recital at CSU featuring my new recital Fugue Finale, October 14, 2019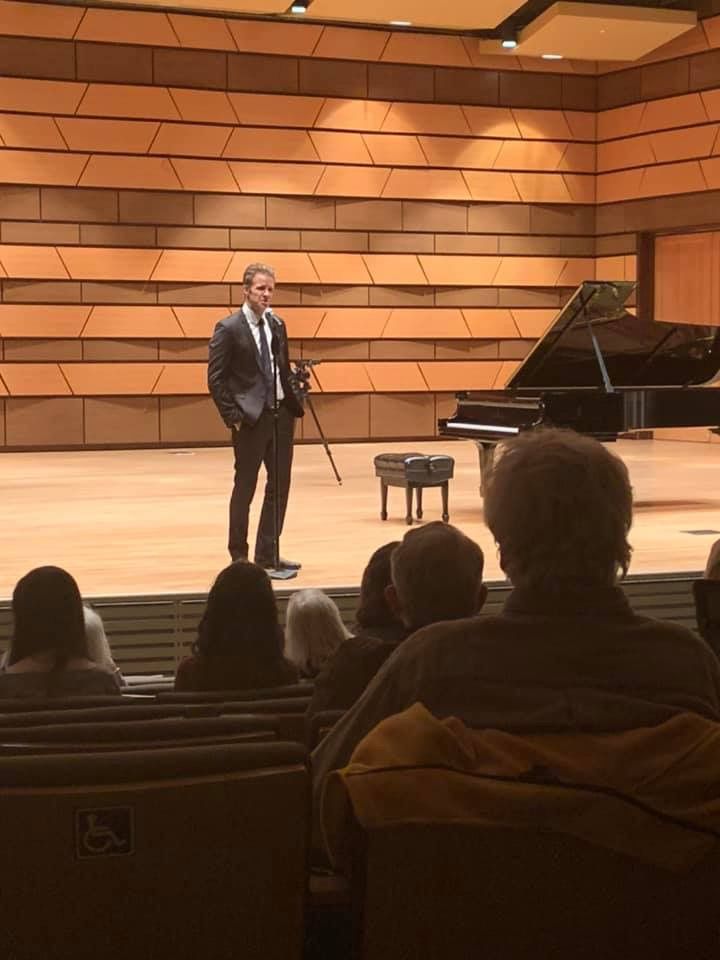 I was asked to be a guest artist at the 2019 July International Keyboard Odyssiad and Festival along with Vadym Kholodenko, Anderson & Roe, Zlata Chochieva and Kemal Gekic.  Here is a link to the festival:
Below is a link to the review of my Barber Piano Concerto with Robert Moody and the Cape Philharmonic Orchestra:
https://weekendspecial.co.za/cpo-review-bryan-wallick/
Here is a review of a duo recital with cellist Alexander Ramm (June 2019):
https://www.artlink.co.za/news_article.htm?contentID=45211
I was asked to replace pianist Einav Yarden at the Ravinia Festival on May 4, 2019
https://www.ravinia.org/ShowDetails/1562/bryan-wallick?fbclid=IwAR3JnAZBh07atNx36lwi9YSKu3dKLB5c7vCmEFZugVbOkXSqN2WRoI7qdbo
Huge Announcement: I have just been named Assistant-Professor of Piano at Colorado State University!  I start my position in August 2019!
Mendelssohn Piano Concerto in G minor this weekend with Gauteng Philharmonic (January 2019)
Thrilled to be a part of Stephen Hough's debut in Cape Town this evening!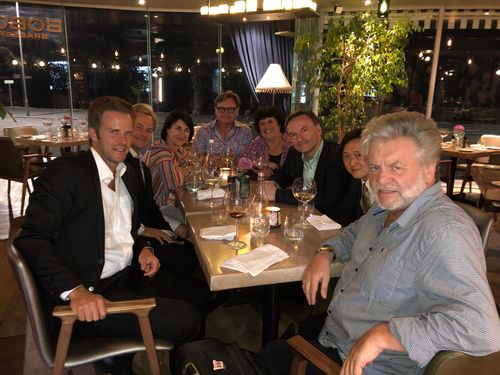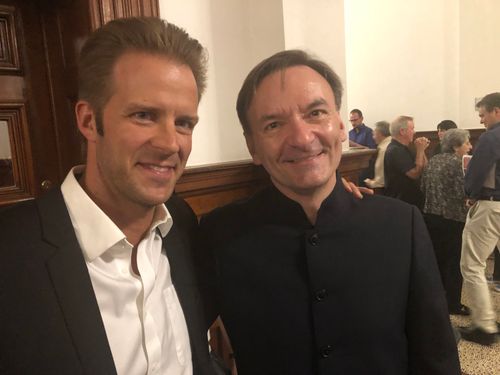 Link to quick clip of Strauss Violin Sonata with Rachel Lee Priday in Cape Town  (Oct 2018):
https://www.instagram.com/p/BpcKPDrgdyz/?utm_source=ig_share_sheet&igshid=195pjme1a4t2s&fbclid=IwAR1GYP7l_KERBpNINmQXfce9o_OoNOZD6Jrzu1ypBvfN1gJX9HK9Nu7OICg
Below is a link to a video interview from Joburg Today on my latest Rachmaninoff Paganini Rhapsody performance.
https://sandtonchronicle.co.za/video_of_the_day/joburgtoday-bryan-wallick/
Here is the latest review from my Piano and Cello recital in Johannesburg
https://www.artlink.co.za/news_article.htm?contentID=43528
Refreshing cello and piano recital
Paul Boekkooi
03/28/2018

Paul Boekkooi: Cello and piano recital: When kindred spirits meet to rekindle the magic of music.

Peter Martens and Bryan Wallick – both have doctoral degrees in music – may live fifteen hundred kilometres apart, but musically speaking they are on the same page.

Sunday's late afternoon recital at the Wits Education Campus' Linder auditorium hosted by the Johannesburg Musical Society was on many levels inspirational. Apart from being a refreshing guideline for listeners how the greatest of composers always give performers a choice in their approach to specific compositions, this scope becomes much more limited by those composers who are, through natural selection, rated further down the line.
|
The 'cellist Peter Martens has chosen to go it alone in the opening work: J.S. Bach's Suite No. 4 in E flat major, BWV 1010. Pablo Casals, the legendary Spanish 'cellist (1876-1973), used to say: "First Bach – and then all the others... He dominates the whole lot." More than ever before the performer has options in how the music can or should be interpreted. A score by Bach is everything but an artefact, but rather a living organism whose performance will as much be guided by a combination of historical insights and various personal approaches which might well, at the end, lead to a coherent wholeness in the final delivery.

Martens' tempos were already in the opening Prelude predominantly brisk. The music no doubt came alive that way, without losing anything on the level of being distinguished in its stylistic consistency, or structured organic development throughout its seven movements of which numbers two to seven range from stately to exuberant dance forms. In the well-controlled Sarabande the contrapuntal element was clear and strongly projected. Slightly more breathing space between movements could also have had a more therapeutic effect on the listeners, but that is a less significant point. As a whole the performance carried the impression of a nearly improvisatory freedom which implies that the tyranny of the bar-line has been ruled out and replaced with vividness, freshness, plus variety regarding pace, expression and articulation.    

In the Sonata No. 1 in E minor for 'Cello and Piano, Opus 38 by Brahms it was immediately clear that Martens and Wallick saw eye to eye regarding the young Brahms' first published chamber music work, written between the age of 29 and 32. This was demonstrated in encompassing musical detail, but never in a way which was even for a moment out of scale or at odds with the work's basic classical elements. The intensity of Wallick's playing flows from a relaxed premise, but soon gathers in involvement and intensity as he and Martens demonstrated a wonderful sense of line in the Allegro non troppo opening movement.

Vivid characterisation followed in the elegant and limpid playing of this duo in the Allegretto quasi minuetto. It was in no way a let-down, described long ago by one critic as "sounding like an elephant dancing on tiptoes" after the very impressive beauty of the first movement. Here real understated delicateness, playful irony and a hint of humour presented itself centre-stage, without ever sounding pedestrian in the slightest way possible. At one time in this sonata's history the fugue of the Allegro-Finale was found to be almost impossible to bring off in performance, but Martens and Wallick did not let anything stand in their way to keep the articulation in those textures clear before the marvel of the sonata's ending had its miraculous effect on the audience.

In the final work on the programme, the Sonata in G minor for 'Cello and Piano, Opus 19 by Rachmaninov, this duo aimed at a process where some of the work's overtly and typical Slavic temperament as well as the continuous accents on sentiment and nostalgia could be tempered. In the process the piece lost most of its cloying Russian baggage and gathered kudos for those listeners who in the past had to sit through its long-windedness.

In this expansive Rachmaninov piece from his youth, Martens and Wallick opted for the clarity of sound one can compare with a multifaceted diamond. Martens did not need to force the most burnished, nor penetrating sound to find the right balance with the piano. Although Walllick provided the necessary heft if tone when needed, his approach towards this sonata also had an easy grace and crystalline spring to the playing. It provided a kind of magic carpet on which the most subtle sound waves could be created. Everything in this performance throughout the four extended movements flowed naturally from each musical argument and was developed in a totally convincing and sustained way. This kind of musical dialogue between two rather opposing instruments hasn't gripped this listener on this level for ages. The encore, Rachmaninov's Vocalise, didn't for a moment sound alien due to the fact that Martens avoided even hinting at a portamento. Instead, the sheer momentum, the natural flow of the melody from phrase to phrase, from arch to arch, is, after all, pure Rachmaninov.
____________________
Here is a review of my Ravinia Recital on 5 September 2017
https://www.chicagotheatrereview.com/2017/09/color-and-light/
The crisp, autumnal scent of the Ravinia Festival grounds, squirreled away from Chicago's smog and aural grumblings, whispered of the clarity that was to come when Bryan Wallick played his Bach-centric, organ-celebrating program of the music of that master himself, Brahms' famous variations on a theme of Bach's spiritual son, Handel, and the reminiscences of the compositional re-envisaging Liszt in his B-A-C-H  fantasy.
Educated at the Cincinnati College-Conservatory of music, Julliard, and London's Royal Academy of Music, Wallick's gold medal at the Vladimir Horowitz International Competition didn't quell his thirst for academic studies, and this pristine programming brings both his musical intellect and some of his unique, pianistic singing front-and-center. While Wallick has been giving this concert publicly in various venues since May, it seemed as though it was particularly chosen to embellish the profoundly secretive feel of Ravinia, and for this time of the year when the earth's landscape burns bright colors to accompany a cycle of reflection.
It is a curious thing to imagine the trajectory of this young performer's musical understanding from
his 1997 Horowitz win to this, his third Ravinia outing. It is likely that a youthful firestorm of technical thundering carried him to that gold medal. The twenty years that have past, during which time he has concertized across the world, found love and the gift of children in South Africa, and is now proving himself the skillful entrepreneur, poised to bring further success to the field of concert management in his chosen home, a country pinning for a stronger currency, where world-class artists must be cajoled to the journey for the love of the country's beauty and the musical festivities concocted by this minion of music, have no doubt leavened the breath and breadth of his singular abilities. One who has not lived a life, no matter the veracity of a youthful talent, can bring the most fulsome passions to account.
For Wallick now plays each phrase as a new idea, in the way that a singer's breath before every phrase carries the emotion of the moment to follow. There is such a sustained joy that beams from this mature artist, confined, as is the fate of the concert pianist, to an angle which shields part of the facial expression from those who beg to share the music. In every flick of the eye, in every wry twist of the corner of his mouth, in every soulful returning to the keys after a moment of aching quiet, this artist invites a conversation. Wallick always has something to say, a thought to elucidate, an emotion to explore, and to refuse his invitation to this dance is to squander talents.
Wallick's phrasing in Bach's Concerto nach Italienischem Gusto gave joyous lie to the notion that, in order to imitate the swift changes of registry the saturating shades that the organ can supply by switching from one of its keyboards to another, the experience of his music removed from that sensibility must remember its origin by playing a repeating phrase very softly if it is first sounded sonorously, and vice-versa. Wallick played Bach with a sensuality that can only be realized by giving attention to the tiny, internal phrasings of a larger musical statement. Even when illuminating two note-phrases, his keen sensitivity to the weight of every note gave Bach's pristine musings a heart-swelling romance.
Conversely, and gloriously, Wallick played Brahms as if he were Bach, giving every surprising turn of the Variations and Fugue on a Theme by Handel a lucidity that would have made Bach's predecessor, the composer Johann Kuhnau leap for pure love. Once again, it was the studied weight for each individual digital message with which Wallick lead us on this merry dance, always humming the theme while letting Brahms toss his compositional hair about, birthing the chords that would throw the door open to others, a door through which a young Gershwin would one day waltz, that won us the prize.
Albéniz's Evocación and El Puerto from Iberia, Book 1 gave the program the necessary palate-cleanser, as his folksong-borrowed strains took us to us to a gentle drowsiness, letting the mind wander in that special way that instrumental music can afford, letting personal pictures and moments flicker across our mind's brow, in step with the heartfelt bubbling.
We were better for the siesta, for up next was Liszt's Fantasy and Fugue on the Theme B-A-C-H. The heretofore warmly calculating, joyfully jocular Wallick brought every eye to the keyboard, as he brought the weight and his truth of this crowd-pleasure to full flower. Here Wallick displayed a different kind of passion than we had heard earlier. At times there was a wall of sound that left us breathless, and the clear rapidity of all of the notes of downward scales was so smooth as to sound like a glissando that somehow encompassed the black keys as well. The composer's Norma fantasy brought the amorousness of the evening to a compositional conclusion, with the technical and emotional glimpses of this artist's journey for that particular evening restated, then slipping sweetly away into the early evening air.
How is it that Bryan Wallick is no a household name in this country? This can only be the difficulty of continuing a career on an international platform while raising children and musical expectations in South Africa. We must hope that his new professional responsibilities will give his career a greater international attention.
Wallick has received a grant from the Scottsdale Center to create a cross-spectrum musical event, showcasing his personal experience wherein he sees a color with every musical pitch. This ability to experience "two or more sensory experience with one stimuli" is called Synesthesia, and Wallick looks forward to showing his audiences what his mind's eye embraces as his music speaks to his heart, to share his colors as well as his songs. Shades of Sondheim's "Color and Light?" Is Wallick putting together his own musical "Chromolume?"  For now, we must wait, and continue to dream.
Reviewed by Aaron Hunt
Had a great time performing with phenomenal cellist Zuill Bailey throughout South Africa.  October 2017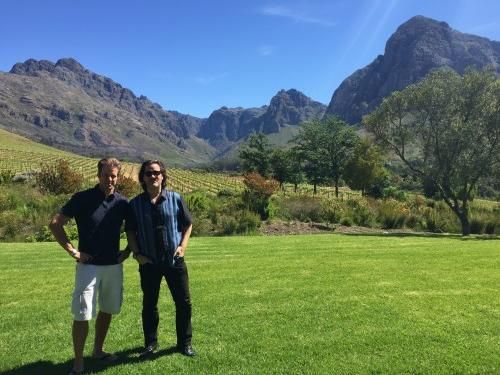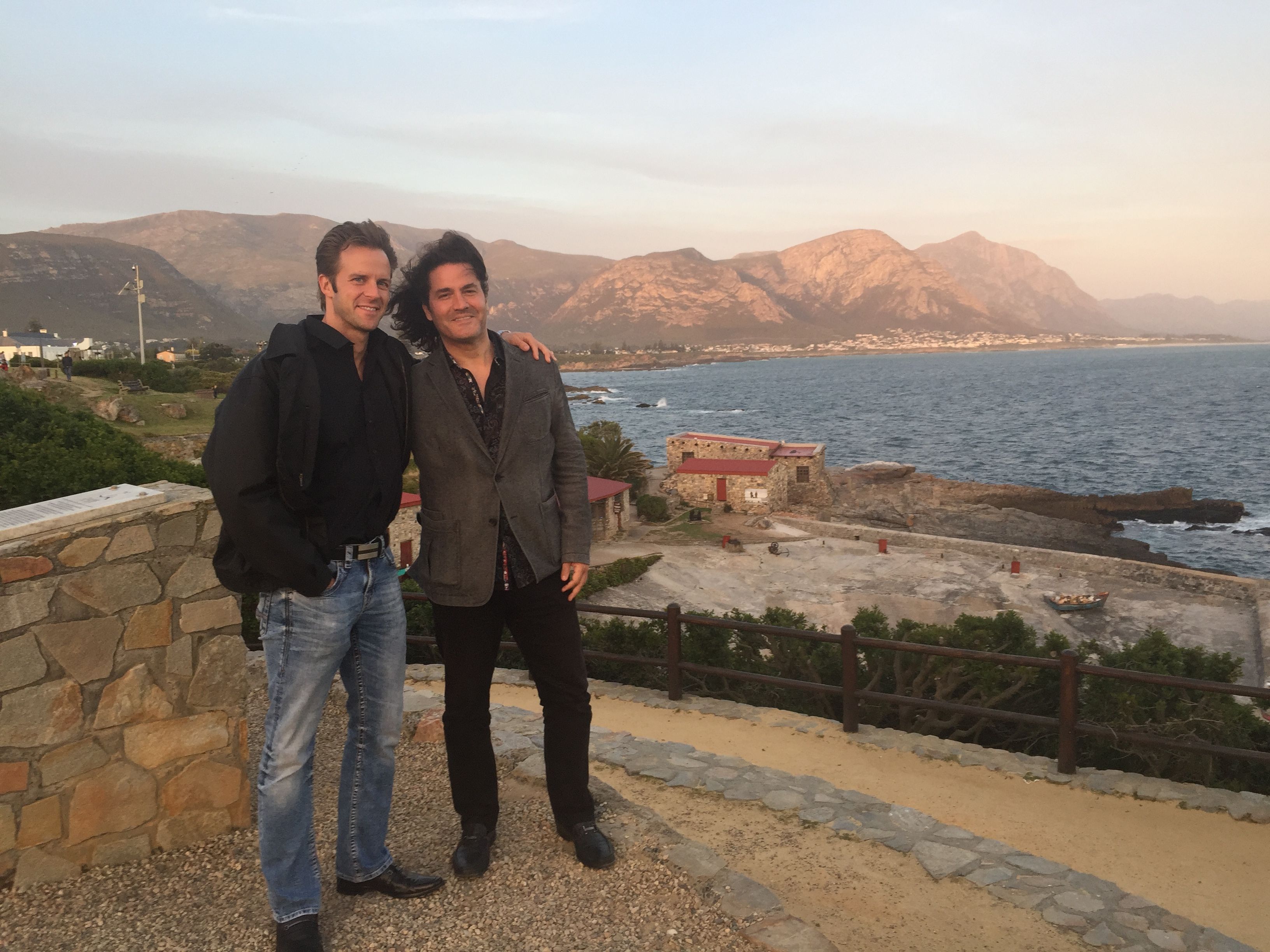 A pic with my parents after my recital at the Ravinia Festival, September 5, 2017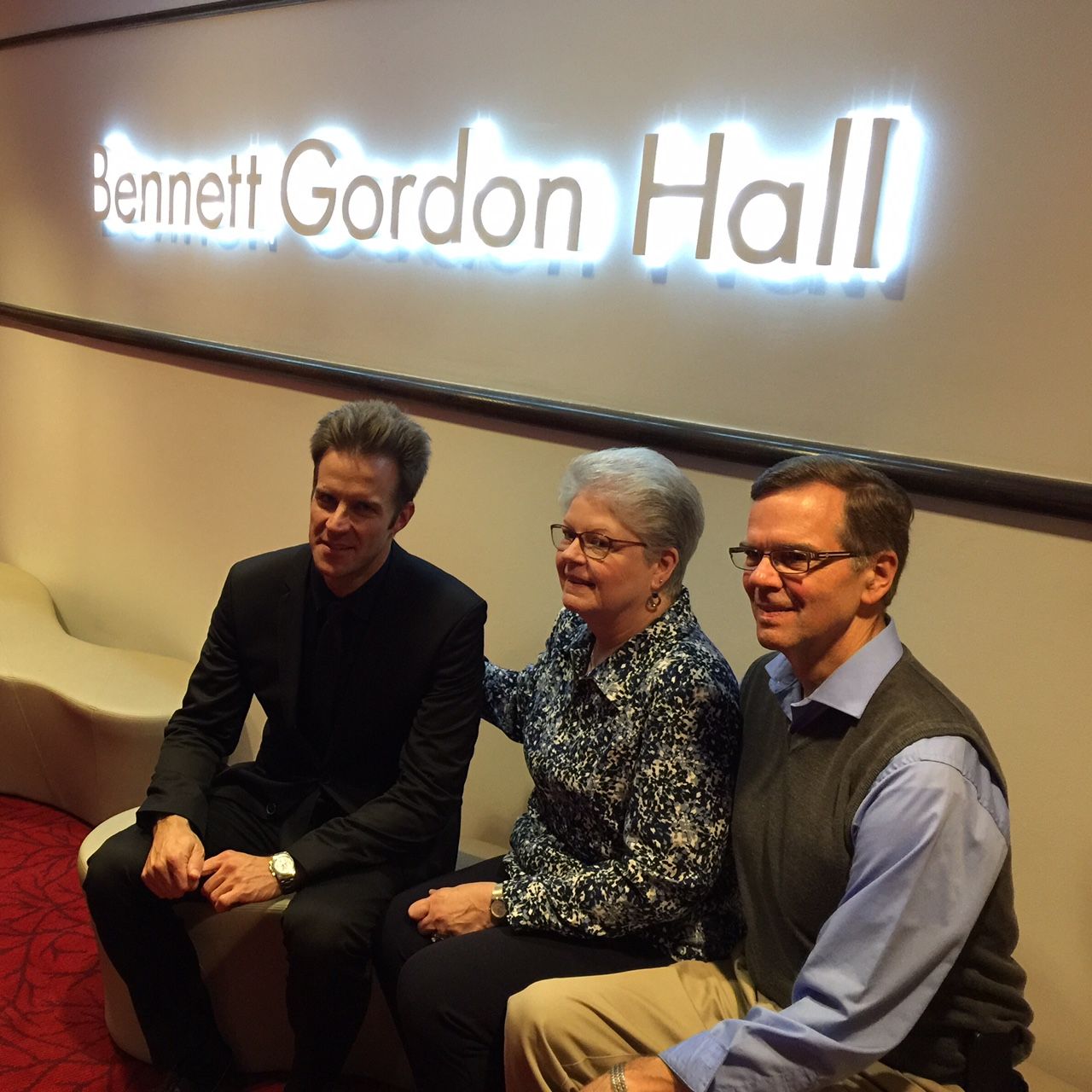 A few pics from my trip to Arizona.  I performed the Beethoven Triple with these  wonderful musicians at the Arizona Musicfest.  Christoph Koncz is the principal second violin of the Vienna Philharmonic, and his brother is a cellist in the Berlin Philharmonic.  Robert Moody is the festival director and wonderful friend.  I also met up with Olga Kern after her recital in Scottsdale.   Feb 21, 2017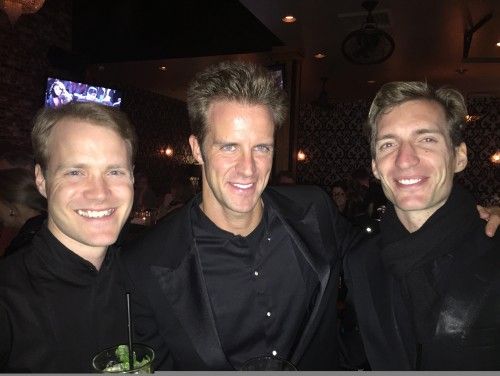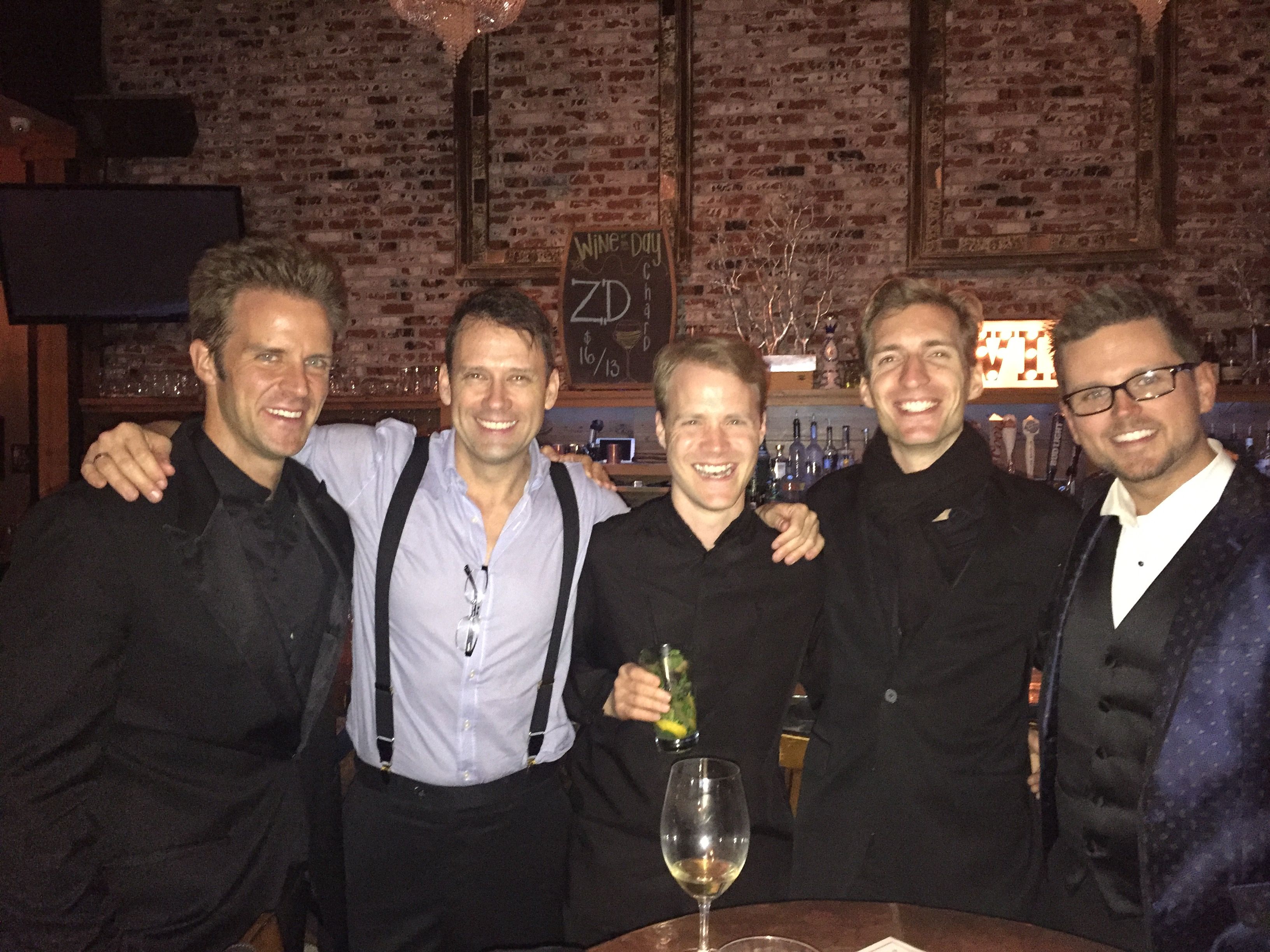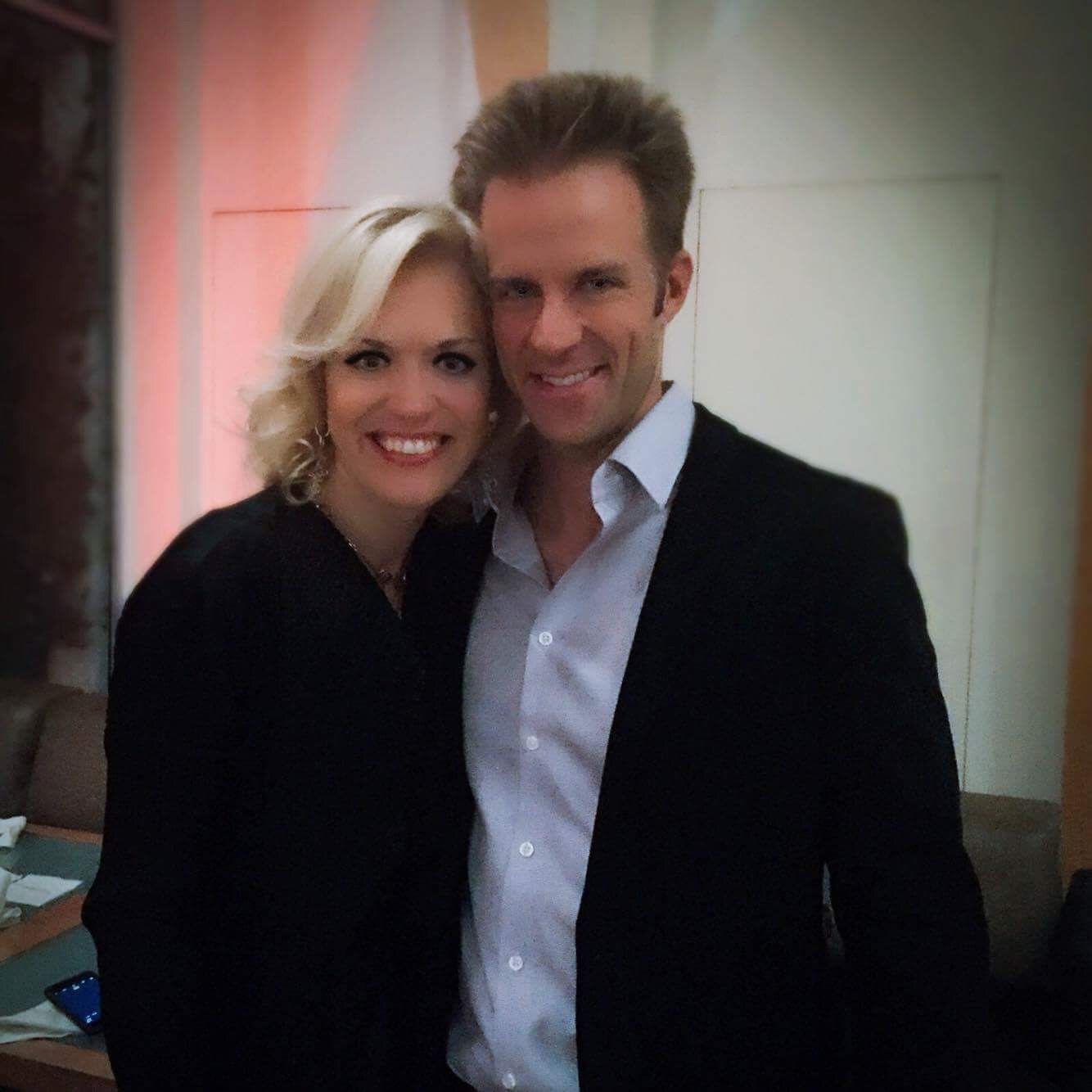 Below are two reviews of my Prokofiev 2 with Cape Town Philharmonic: May 19, 2016
Prokofiev's second piano concerto is my highlight of the season. I am biased, though, since I am a great admirer of Russian music. It pays homage to his great compatriots, but with Prokofiev's own unique modern touches. It was dedicated to a friend of his at the St Petersburg Conservatory, who committed suicide. The original score was burnt during the Russian Revolution, which Prokofiev had fled, but he reconstructed and revised the music a decade later. It's easy to imagine the tumultuous political climate of the time being reflected in the music.
American pianist Bryan Wallick, now living in South Africa, delivered sensitive playing of this incredibly difficult work. Tien matched the orchestra's loudness to match the piano, but I wished for more volume and passion at times.
There are many memorable moments in this concerto, but my favourite came in the first movement. Wallick played with an incredible range of dynamics and emotion in the long solo cadenza. He built the intensity beautifully before leading the orchestra into the powerful finale in which the sweeping strings and thundering brass were spine-tingling. The scherzo second movement is a relentless onslaught of notes, and Wallick drifted in and out of the orchestral timbre. The death march third movement was also exciting. The final movement is bookended by emotional outbursts from the piano and orchestra, and features haunting folk song-like melodies in the middle. A very long and well-deserved applause followed
Rudolph Mare
____________
There is an understated kind of charm about this concerto. Beginning rather ordinarily, the work is embalmed with Prokovief's unmistakable mystical logic. We find ourselves in the most unexpected places as if by magic, and somehow arrive back in the tonic. Wallick's interpretation of this musical sorcery was Renoiresque – a hazy impression that on closer inspection reveals articulate precision. His playing was relaxed, contemplative, and very clean, portraying a healthy blend of confidence and intuitive accuracy. His fingers have a way of finding the right notes. As enchanting as the first movement is, the cadenza does rather stand out as the reason why any fiery pianist would perform the work. Growing in layers, the developments on the first subject become progressively intense, each new layer seeming to be the ultimate hight of extremism, only to reveal another even higher pinnacle. Time suspended as Wallick's left hand plucked melody out from between the dangerous moving parts of his right hand arpeggios. With increasing conviction, it dawned on the audience that we were in the presence of a remarkable pianist, who plays like a Tai Chi master – organic and fluid, surging and ebbing, gathering and centering, accurate and intense.
The third movement Intermezzo was phenomenal – a magical macabre slow scary march from the CTPO, great interpretation by Maestro Tien.
Andrew Wilding
_______________
Below is the review of my Prokofiev 2 with the KZNPO Philharmonic:
A remarkable performance recognised as such by an appreciative audience. (Review by Michael Green) Oct 2, 2015
A programme of mainly unfamiliar music produced pleasant surprises for the Durban City Hall audience at the latest concert of the KZN Philharmonic Orchestra's spring season.
A Sergei Prokofiev piano concerto that has seldom if ever been played here before turned out to be a spectacular success, and a virtually unknown symphony by another Russian composer put a song in everyone's heart.
The conductor was the enthusiastic and popular Israeli-American Daniel Boico, and the solo pianist was another performer much admired here, Bryan Wallick, American but now living in Pretoria.
Prokofiev wrote five piano concertos, of which the third is by far the best known. Bryan Wallick played No. 2 in G minor. It was written in 1913 and is one of the most difficult works in the entire concerto repertory.
Among its challenges are a massive five-minute first movement cadenza, part of it marked Colossale – colossal – by the composer; and a second movement in which the pianist plays about 1,500 semiquavers at high speed, the two hands in unison playing the same notes an octave apart.
Technicalities aside, the first movement has a really haunting main theme, and there are memorable moments elsewhere in the work.
Wallick handled all this with high skill and aplomb, hands flying all over the keyboard, and the orchestra was an admirable partner in this complex music. A remarkable performance, and it was recognised as such by an appreciative audience.
________________________
Here are the latest reviews of my Beethoven 5 in Madison, Wisconsin:
Pianist Wallick dazzles again in Wisconsin Chamber Orchestra season finale
If the draw of an all-Beethoven program wasn't enough, the Friday evening concert at the Overture Center's Capitol Theater marked the return of Bryan Wallick—with the hope that he would dazzle us as he did a couple of seasons ago, this time at the helm of the mighty "Emperor" concerto.
But the major draw was certainly Wallick. The Piano Concerto No. 5 (nicknamed "Emperor" by … who knows?) is arguably the greatest of all piano concertos. One immediately thrilled to Wallick's expansive, yet propulsive, exposition of the opening quasi-cadenzas in response to the WCO's full-throated chords of punctuation. Yet in the first all-orchestral passage, we also had an illustration of the pitfalls of a chamber orchestra reading of works of this breadth and power: The twenty string players were overmatched by the zealous (though arrestingly beautiful) reeds and brass.
Later in the work, particularly in the finale, the balances were more equitable, and in the larger picture, the performance was like a living dissertation on the state of the orchestra c.1810. The rapid expansion of the number of string players occurred in large part because of the improvement in wind instruments, the fact that composers were writing for a wider variety of reeds and brass in greater numbers, and they made a stronger sound.
And now we can put the criticism regarding balances in the all-but-a-quibble file. The tradeoff is, when artists who work so well together as Wallick and Sewell, as well as the rank and file of the orchestra itself, precious stretches of transparent playing that, at best, are rare when larger orchestras go full bore on the big works. This was never truer than in the shimmering slow movement of the concerto … liquid moonlight being produced by Wallick, the orchestra reflecting it with a shimmer of its own. The transition to the finale—one of this writer's all-time favorite passages in music—easily rose to the hold-your-breath level of beauty and expectation. The finale was that heady brand of pure joy driven by unbounded energy that lies at the heart of all of Beethoven's greatest fast movements.
For good measure, and with a little coaxing from Sewell after a standing ovation and multiple curtain calls, Wallick treated us to the Rachmaninoff Prelude in B-flat Major, proving that he can roar all by himself, at least when the piano wasn't purring instead. We are so fortunate to have had him in Madison on more than one occasion, and if Sewell manages to bring him back again (feel free, sir!), the handfuls of the empty seats Friday night should be completely full next time.
April showers bring May Beethoven
The Wisconsin Chamber Orchestra finishes the season with an exhilarating flourish
by John W. Barker
May must be the month for Beethoven. The Wisconsin Chamber Orchestra closed its season with an all-Beethoven program. And next weekend, The Madison Symphony Orchestra performs the composer's Ninth Symphony. 
The WCO began on May 1 at the Overture Center's Capitol Theater with a comparative novelty that still merits hearing from time to time: the first of the three overtures that Beethoven wrote for different productions of his only opera, under its original title of "Leonore." It is less ambitious in structure than its grander successors, but the WCO realized it warmly.
The guest soloist was the rapidly rising young American pianist Bryan Wallick, playing Beethoven's Concerto No. 5, the "Emperor." This is usually delivered in a commanding and powerhouse style, and, indeed, Maestro Andrew Sewell and the orchestra gave him every encouragement to reach grandiosity. But Wallick promptly showed, in the first movement, a pattern of beginning heroically but then pulling back as soon as possible into delicate understatement. That approach was quite apt in the thoughtful middle movement, which he treated as soulful repose. Then the pianist returned to the alternation of epic and poetic in the final movement. 
In a sense, this approach created an inconsistency, but it was clearly an effort to escape the stereotyping of this work by suggesting a range of expression beyond the conventional. I had the good fortune to speak with Wallick after the concert and he indicated that a chamber orchestra affords him the opportunity for projecting such a range. I found this performance one of the most thoughtful and interesting I have ever encountered of the work.
In an encore, a prelude in B-flat by Rachmaninoff, Wallick again showed his instinct for finding delicacy amid all the bravura writing.
________________________
Bryan Wallick recently replaced a soloist with the Johannesburg Philharmonic performing Brahms First Piano Concerto Op. 15 with two days notice.  Here is the review:
JPO Review:  Potent Performances
Michael Traub
There were two surprises at the weekly symphony concert by the Johannesburg Philharmonic Orchestra.  The violins were divided left and right of the conductor.  And, more astonishingly, Bryan Wallick, the American pianist based in Pretoria who substituted for the advertised Russian soloist, played exactly the same advertised work the First Brahms Concerto, the one in D minor. 
What a huge concerto to prepare at just over two days' notice—and perfectly memorised too!...The only fault to be found in Bryan Wallick's reading of the concerto was a lack of penetrating singing tone for the melodic passage.  This may have been due to the piano, which though nearly new has a weak treble tone.  Specially impressive was Wallick's handling of the many strenuous octave passages and the remarkable double trills—difficult for anyone without large hands. 
Ensemble with the orchestra was flawless.  Prabava produced a stylish account of the orchestral component, clearly matched to the conception of the soloist.
The encore, well chosen, was Un Sospiro (A Sigh), an etude by Liszt which test the pianist's skill in arpeggios and in playing a melody with hands in alternation from note to note. 
______________________________________
Here is a review from Bryan Wallick's recent performance in April 2014 with the Portland Symphony Orchestra.
The Rachmaninoff Rhapsody on a Theme of Paganini (Op. 43) has lost none of its magic. The performance at Merrill Auditorium by pianist Bryan Wallick and the Portland Symphony Orchestra, under artistic director Robert Moody, drew one of the largest audiences the orchestra has ever had for a matinee... Wallick made the most of the suspense, with a technique that was almost too perfect.
-Portland Press Herald
________________________
Here are the latest reviews of my Saint Saens Concerto No. 5 in Madison, Wisconsin:
Madison Magazine
Wisconsin Chamber Orchestra Opens Their Season with a Major Statement
...Along with Sewell's knack for picking pieces, he also brings in soloists that frequently are making a Madison debut. On this occasion it was the pianist Bryan Wallick, no stranger to much of Europe and North America since his gold medal-winning performance at the 1997 Horowitz competition in Kiev. Not only did Wallick and Sewell opt for one of the less-played composers, Saint-Saens, but offered the Piano Concerto No. 5, a charming and exciting work that languishes in the middle of the pack among the composer's achievements.
From a seat in the balcony, the nearly 40-member orchestra almost covered Wallick in the big moments, but he had plenty of opportunity to seduce us with scintillating virtuosity and an impressive array of keyboard color—all the more appropriate as Wallick has the condition known as synesthesia, and he sees colors in response to the notes and chords he plays.
In case there were any doubts as to his total technical mastery, Wallick gave an encore of Liszt's Concert Paraphrase on Rigoletto. As with every true artist, Wallick managed to find the expressive moments couched within the razzle-dazzle.
The Daily Page
With the WCO, pianist Bryan Wallick shows why Saint-Saëns' "Egyptian" Symphony deserves greater exposure
...The evenings's featured soloist was pianist Bryan Wallick, another of those enterprising guests who spares us the usual warhorses and brings us something fresh and unfamiliar. Camille Saint-Saëns is still too readily dismissed for his facile productivity, even though his works prove full of delightful surprises. Of his five piano concertos, we are likely to hear only the Second or the Fourth with any frequency, but this is unfair to the Fifth. It is known as the "Egyptian," in view of the place the composer was visiting when he wrote it in 1896, in celebrating his 50th anniversary as a concert pianist.
Whether or not one can identify authentic "Egyptian" material in the piece, it is a jewel box of surprises. Amid all the showy virtuosity, great tunes suddenly pop out of nowhere, and the composer's delight is not so much to develop his material as to play with it, have fun with it. This work really ought to be heard more often. Wallick pulled off the virtuoso fireworks with ease, but also with a sense of Gallic elegance. As an encore, he presented Franz Liszt's paraphrase on the Quartet from Verdi's Rigoletto, plainly as a vehicle to remind us of his capacities for showy brilliance.